Ray Dalio Raises Bets Against Europe's Top Companies to $22 Billion
By , , and
Bridgewater increases short wagers against biggest companies

Hedge fund said to have turned bearish on Europe in January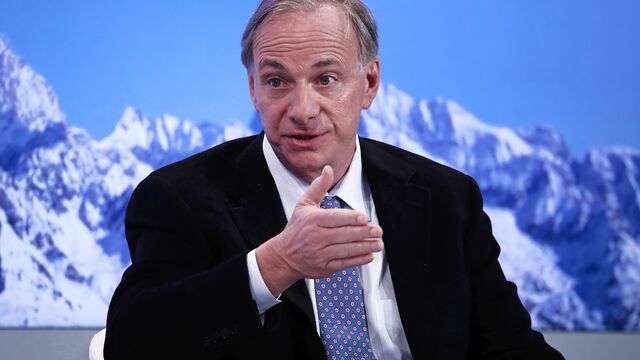 Ray Dalio, billionaire philosopher-king of the world's biggest hedge fund, has a checklist to identify the best time to sell stocks: a strong economy, close to full employment and rising interest rates.
That may explain why the firm he created, Bridgewater Associates, has caused a to-do the past two weeks by quickly amassing an $21.65 billion bet against Europe's biggest companies. The firm's total asset pool is $150 billion, according to its website.
Economic conditions in Europe appear to fit Dalio's requirements. Last year, the continent's economy grew at the fastest pace in a decade, and European Central Bank President Mario Draghi has indicated he's on a slow path toward boosting rates as economic slack narrows. Factories around the world are finding it increasingly hard to keep up with demand, potentially forcing them to raise prices.
But Dalio is leading his firm down a path that few other funds care to tread.
Renaissance Technologies, most recently famous for its association with Breitbart donor Robert Mercer, is only $42 million short in Europe. Two Sigma Investments is betting even less than that. Kenneth Griffin's Citadel has less than $2 billion in European company shorts.
So Dalio will rise or fall virtually on his own.
Bridgewater didn't respond to requests for comment.
Wonder Why
"It is not unusual to see strong economies accompanied by falling stock and other asset prices, which is curious to people who wonder why stocks go down when the economy is strong and don't understand how this dynamic works," Dalio wrote in a LinkedIn post this week.
Read more: Understanding short selling -- a QuickTake explainer
Bridgewater's shorting spree started last fall in Italy.
With the country's big banks accumulating billions in bad debt, Bridgewater mounted a $770 million wager against Italian financial stocks. Saddled with non-performing loans and under constant regulatory scrutiny, they made for a juicy target.
Throughout the fall and into winter the bet against Italy represented the majority of Bridgewater's publicly disclosed short positions. The initial bet was eventually raised to encompass 18 firms and nearly $3 billion.
Bridgewater had flipped its portfolio in January to turn bearish on Western Europe stocks and also started shorting Japanese equities, according to a person with knowledge of the matter. The hedge fund significantly raised its long U.S. equities exposure last month, the person added. A Bridgewater representative did not reply to a call and email seeking comment outside normal working hours.
'Feel Stupid'
Around the beginning of February, Dalio was telling the World Economic Forum in Davos, Switzerland, they'd "feel pretty stupid" for holding cash. Italian financials remained in the cross-hairs, but the short list started including members of the Euro Stoxx 50 Index, the euro zone's blue-chip index. The positions against Stoxx 59 companies are being made roughly in proportion to their weight within the index.

Among the powerhouses Bridgewater is shorting: Munich-based engineering giant Siemens AG; French bank BNP Paribas SA and Dutch bank ING Groep NV; Paris-based entertainment and telecom company Vivendi; drugmaker Sanofi; Nokia OYJ, the Finnish tech firm; the French oil behemoth Total SA; and Airbus SE, the airplane and military-equipment manufacturer, whose shares climbed as much as 9.8 percent Thursday, the most since March 2012.
Bridgewater's short bets in Europe exceed the dollar value of its disclosed long equities positions in the U.S. by more than $5 billion.
Dalio's economic preconditions to sell, or short, stocks isn't unique to Europe. The U.S. has seen wage gains accelerate as the jobless rate hovers near a 17-year low. Despite recent fluctuations in the stock market, Federal Reserve Chairman Jerome Powell suggested that the U.S. central bank would continue on the path of gradual interest-rate increases. And this week Dalio identified a rising "risk of a recession in the next 18-24 months."
But Bridgewater's trades in the U.S. remain a mystery. The Eurozone requires that investors disclose their short bets once they pass a certain size. The U.S. does not.
— With assistance by Dani Burger, and Jill Ward
Before it's here, it's on the Bloomberg Terminal.
LEARN MORE