business
Coal Plant Closures Drive U.K. Air Pollution to Record Lows
By
Sulphur dioxide emissions fell 29% between 2015 and 2016

Latest statistics don't show full picture, campaigners say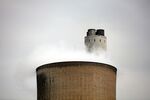 Britain's transition to a low-carbon economy has driven levels of toxic air pollutants to record lows in 2016, largely because coal-fired power stations have either closed down or been converted to biomass plants.
Sulphur dioxide emissions fell by 29 percent in 2016 compared with the previous year, compounding a 97 percent drop since 1970. Nitrogen oxide levels declined 10 percent over the same time period, according to the latest statistics from the Department for Environment, Food and Rural Affairs.
Air pollution across the U.K. is linked to around 40,000 early deaths each year, and is draining 20 billion pounds ($28 billion) a year from the economy, according to the Royal College of Physicians. London breached its annual air quality limits by the end of January even under government policies aimed at reducing reliance on oil and coal as well penalties against the most polluting diesel vehicles.
The U.K. has been breaking the European Union's rules on clean air since 2010. While the nation is in the process of leaving the EU, the trade bloc's laws still apply until the divorce is official. Prime Minister Theresa May has said that she intends to ensure that Brexit will not mean a lowering of environmental standards.
"The reduction in emissions is good news but it fails to tell the whole story," said Andrea Lee of environmental group ClientEarth. "Concentrations of nitrogen dioxide are still at illegal and harmful levels in our towns and cities, where the majority of people are exposed to it."
U.K. coal power generation has been in decline since 2008 thanks to stricter European legislation and the government's promise to completely phase it out by 2025. The government has also pledged to end the sale of conventional new diesel and petrol cars by 2040 and they'll publish a clean-air strategy later this year that will go into more detail about their plan to tackle air pollution.
"The data shows air pollution has improved significantly since 2010 and that the action we've already taken is having an effect," a Defra spokesperson said. "But we recognize there is more to do and that's why we have put in place a 3.5 billion pounds plan to improve air quality and reduce harmful emissions."
(
Updates with Defra statement in the seventh paragraph.
)
Before it's here, it's on the Bloomberg Terminal.
LEARN MORE