politics
NATO Will Put New Command Centers in U.S. and Germany, Officials Say
By
Headquarters for maritime security, troop movements planned

No formal decisions on host countries expected before June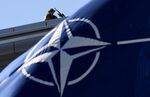 The North Atlantic Treaty Organization will make the U.S. and Germany the locations for two new military headquarters that mark the first upgrade of the alliance's command structure since the end of the Cold War, according to officials.
The U.S. will host a planned NATO command center focused on maritime security in the Atlantic and Germany will be the site of a center responsible for troop movements in Europe, the Brussels-based officials said on the condition of anonymity.
The plan, due to be discussed by NATO defense ministers at a Feb. 14-15 meeting in the Belgian capital, stems from their decision in November to increase the number of military headquarters run by the alliance to nine from seven.
The plan for two additional NATO headquarters reverses years of steady cutbacks in the alliance's command structure amid renewed Russian muscle-flexing, including encroachment in Ukraine where Russia annexed Crimea in 2014 and the government in Kiev is battling Kremlin-backed separatists in the eastern part of the country.
Cold War
NATO's seven current headquarters have 6,800 personnel compared with 33 headquarters that had 22,000 personnel at the end of the Cold War a quarter of a century ago. The most recent scaling back came in 2010-2011, when the number of headquarters was reduced from 13 with 13,800 staff members.
Speaking to reporters on Tuesday in Brussels, NATO Secretary General Jens Stoltenberg and the U.S. envoy to the 29-nation alliance, Kay Bailey Hutchison, said it was too early to comment on the locations of the two new command centers. Stoltenberg said those decisions would come "later on this year," while Hutchison signaled they would be made in June.
"I have learned you can't get ahead of the committee structure in NATO," Hutchison said. "Hopefully in June we'll have an answer."
(
Updates with comments from NATO chief, U.S. envoy starting in sixth paragraph.
)
Before it's here, it's on the Bloomberg Terminal.
LEARN MORE