Finance
What Big Hedge Fund Fees Pay For
Investment managers for the rich often share the money with the brokers who pitch their products.
By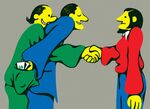 Financial advisers in the U.S. have been under pressure. Investors are skeptical of high costs and sales fees for financial products. Federal rules finalized in 2016 require advisers to put their clients' interests ahead of their own when it comes to retirement accounts. Some of those rules aren't in force yet, and the Trump administration has signaled that it would like to roll them back, but many advisers working with everyday individual retirement accounts and 401(k) rollovers have already changed their business practices.
One corner of the investing world that's been more resistant to these trends is "alternative" investments, including private equity and hedge funds, which are sold to institutions and affluent individuals. The fees charged—traditionally 2 percent of assets plus 20 percent of any profits—can be hundreds of times higher than those of the lowest-cost mutual funds. The industry frames the fees as the price investors must pay to tap into top money managers.
A close look at where the money flows suggests a more complicated story. Alt funds regularly share major chunks of their fees with the bankers, brokers, and other salesmen who steer clients their way. The payments come in a number of forms and go by different names: placement fees, payment for shelf space, and retrocessions, among them.
Placement agents, who get paid by fund managers for lining up investors, have been such a big source of corruption that New York and Pennsylvania have banned their public pension funds from using them. The European Union in January banned many advisers from receiving inducements to sell investments to individuals.
In the U.S. market, hedge fund money flows in ways that only occasionally come into view. JPMorgan Chase & Co. selected third-party hedge funds based on their managers' willingness to pass along about 1 percent in fees to a bank affiliate and failed to inform clients of its preference for funds willing to share their fees, the U.S. Securities and Exchange Commission said in December 2015 as part of a record asset management settlement with the bank. JPMorgan has since updated its disclosures to reflect its fee-sharing practices, spokesman Darin Oduyoye says.
"Contrary to what the clients generally believe, half the fees they're paying are going not to investment geniuses but to marketing," says Edward Siedle, an attorney who represented a whistleblower in the JPMorgan settlement. "The marketing payments explain why hedge funds have persisted, despite ample evidence that they underperform." Fee practices of hedge funds can vary. Och-Ziff Capital Management Group, a publicly traded company that manages hedge funds and other investments, reported expenses of $38 million for "recurring placement and related service fees" in 2016. That's equal to about 0.1 percent of the assets it had under management.
Hedge funds that invest in stocks returned 7.2 percent annually from 2009 to 2017, which was less than half the S&P 500's return, according to data from Hedge Fund Research.
It's impossible to say how much banks and brokerages take in from such payments. None break out the figures. A back-of-the-envelope estimate might start with the $4.8 trillion wealthy clients had invested via private banks and big brokerages as of December 2016, according to Cerulli Associates figures. About 5.5 percent of that, or close to $265 billion, was in alternatives, Cerulli estimates. Assuming money-management firms passed along 1 percent of that to banks and brokerages, that's a $2.6 billion weight on advisers' scales.
SkyBridge Capital's Series G fund offers a window on how the money flows. Founded by Anthony Scaramucci, who briefly served as the Trump White House communications director, SkyBridge files relatively detailed financial statements. Series G is a so-called fund-of-funds. It places investors' money with other funds, with SkyBridge receiving a fee of 1.5 percent of investor assets. The funds themselves charge another layer of fees, which are often higher.
Management fees paid to SkyBridge came to $95.5 million in the year through last March, according to the fund's statement of operations. A careful reader would learn several pages later that SkyBridge made payments equal to about half that amount, or about $48 million, to outsiders for placing clients in the fund. The fund's average annual return of 5.7 percent over the past 10 years lags the S&P 500's 7.4 percent, but beats an index for funds-of-funds, which made 1.1 percent.
A confidential Series G presentation Morgan Stanley prepared for clients last quarter, reviewed by Bloomberg, lists the fund's 1.5 percent annual management fee and several lines later mentions that SkyBridge makes payments out of its own revenues equal to more than half that amount, or 0.85 percent of assets, to Morgan Stanley. A spokeswoman for the bank says all fees are disclosed to clients, who must review and acknowledge receiving the information to be accepted as investors in the fund.
A separate SkyBridge fund prospectus that Morgan Stanley provides warns investors that payments from SkyBridge could create incentives "to more positively consider" the Series G fund "relative to investment funds not making payments of this nature or making smaller such payments."
SkyBridge owner Scaramucci, who's no longer involved in managing the company, has been trying for the past year to sell it to HNA Group Co., a troubled Chinese conglomerate. Scaramucci did not respond to requests for comment, but he's made no bones about his view of the previous administration's push for a client-first rule. "It could be the dumbest decision to come out of the U.S. government in the last 50 or 60 years," Scaramucci said in October 2016.
(
Corrects in the sixth paragraph the percentage of assets under management Och-Ziff's expenses for recurring placement and related service fees represented. 
)
BOTTOM LINE -
Brokerages can earn big money by placing clients in hedge funds. This could create incentives to recommend funds that pay them more.
Before it's here, it's on the Bloomberg Terminal.
LEARN MORE