Trump's Spending Plan Assumes U.S. Growth of 3% Over Decade
By and
Updated projections follow tax cuts, federal spending plan

U.S. stock market has fallen recently on inflation concerns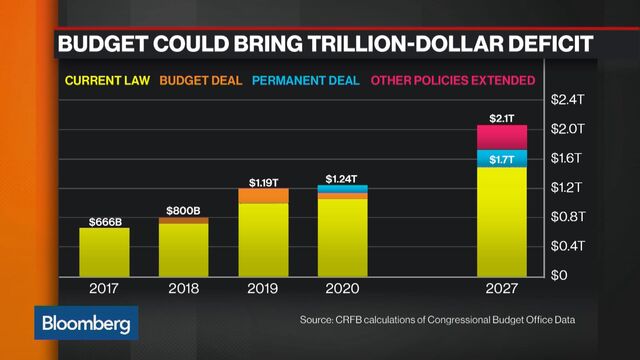 President Donald Trump's budget proposal assumes the U.S. economy will ramp up over the next decade to his goal of 3 percent growth, spurred by his tax cuts and federal spending plan.
Economic growth is projected to climb to 3.2 percent in 2019 and 2020, before easing to 3 percent from 2021 to 2025 and further cooling to 2.8 percent by 2026, according to an administration official who confirmed the figures contained in the White House's budget proposal to be released Monday.
The more optimistic projections for the near term come on the heels of recent fiscal measures that are aimed at boosting growth. Economists expect federal spending of about $300 billion over the next two years as part of this week's budget deal, following the tax-cut legislation passed in December, will provide added juice.
At the same time, stocks have plunged in recent days on concerns the acceleration in growth will also spur inflation, putting pressure on the Federal Reserve to raise interest rates faster.
While the economy is posting steady growth, economists have previously said Trump's goal of sustained gains of at least 3 percent remains a challenge. According to the median estimate of economists in a Bloomberg survey earlier this month, the economy will expand 2.7 percent in 2018, 2.3 percent next year, and 2 percent in 2020. Gross domestic product grew 2.5 percent in the fourth quarter from a year earlier, and has averaged 2.2 percent growth since this expansion began in mid 2009. 
The Trump administration's assumptions from its May budget proposal had included growth of 2.5 percent for 2018, 2.8 percent in 2019 and 3 percent in the long run.
The latest economic assumptions were earlier reported by the Wall Street Journal.
— With assistance by Catarina Saraiva
Before it's here, it's on the Bloomberg Terminal.
LEARN MORE