Strategist Who Called VIX Blowup Says Bet on Return to Stability
By
Macro Risk Advisors sees opportunity in VXX put spreads

Volatility-product crackup means less fuel for wild swings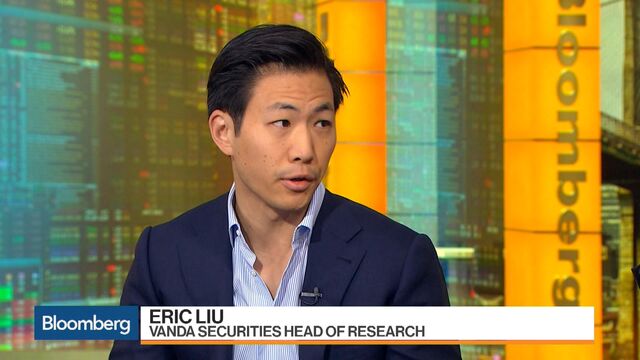 Thanks to the casualties of this week's turmoil in stocks, a certain kind of calm is poised to return. 
It's time to bet that markets will settle down, says Pravit Chintawongvanich, the head of derivatives strategy at Macro Risk Advisors. A surge in expected swings in volatility had been exacerbated by retail-beloved products nearly going belly-up, but these instruments don't have the power to send markets haywire any more, he says.
Implied equity volatility has gone parabolic, but that move pales in comparison to the surge in the volatility of implied volatility. The Cboe VVIX Index uses options on the VIX (or so-called "fear gauge") to track the expected gyrations in implied equity volatility -- which in turn is a function of expected price fluctuations for the S&P 500 Index. On Thursday, this metric skyrocketed to its highest closing level on record.

Chintawongvanich recommends wagering that the volatility of volatility will normalize somewhat. His theory is that while the increasing popularity of exchange-traded products laid the foundation for the VIX to become much more volatile -- thanks to their lumpy, fairly well-telegraphed end-of-day buying and selling needs in the underlying futures contracts -- now that so many of the funds that bet in the space have been wiped out or seen their assets shrink significantly, that dynamic is going to be much less of a factor going forward.
"The short VIX ETPs were exacerbating moves in VIX futures through their daily 'rebalance' trading --buying VIX futures on days when VIX was up, and vice versa," Chintawongvanich wrote in a note to clients. "Since the VIX ETPs had to buy increasingly many VIX futures as VIX rose, this sent them into a vicious cycle where they pushed vol up, in turn needing to buy even more -- causing the 'VIX blowup' that we have predicted."
Chintawongvanich described the volatility-feeding-volatility dynamic in detail in a June 2016 note and in June last year specifically drew attention to a potential "acceleration event" for the VelocityShares Daily Inverse VIX Short-Term exchange-traded note as the spark for market mayhem.
The threat the chaos will continue has now receded. The amount of contracts that the ProShares Short VIX Short-Term Futures exchange-traded fund and the VelocityShares Daily Inverse VIX Short-Term exchange-traded note were required to buy in the event of a huge jump in futures has tumbled to roughly 20,000 from 140,000, he estimates.

That's even in the face of enduring retail enthusiasm for the short-volatility trade, as evidenced through inflows to the ProShares Short VIX Short-Term Futures exchange-traded fund since Monday.
"We expect lower realized volatility in VIX futures, and by extension lower implied volatility in VIX options now that the 'blowup risk' is gone," he writes. "On the flip side, VIX spikes may take longer to resolve, now that the VIX ETPs are not pressuring vol on the way down."
Chintawongvanich recommends gaining exposure to an expected decline in the volatility of volatility by buying put spreads in the iPath S&P 500 VIX Short-Term Futures ETN -- that is, buying a higher-strike put and collecting premium in the process by simultaneously selling a lower-strike put.
Before it's here, it's on the Bloomberg Terminal.
LEARN MORE