politics
A 'Hard-Leftist' Leads Colombia's Presidential Race
By and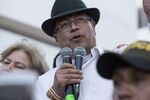 With Colombia's presidential election just over three months away, a "hard leftist" former guerrilla is leading in polls, and investors haven't yet fully woken up to the risk that he might win, according to Nomura.
When they do, the nation's bonds and currency are likely to sell off, according to Mario Castro, a Latin America FX and Rates Strategist at Nomura in New York. Two polls published this month show Gustavo Petro in first place, while another has him running second.
"The markets are very complacent, and short-termist," Castro said in a phone interview. "It's clear that there's a tail risk that he could be president."
In a Feb. 9 report, Scotiabank's Head of Latin American Strategy Joe Kogan said the lack of investor concern over Petro was reminiscent of Peruvian economists who were blindsided by the 2011 win for leftist Ollanta Humala.
"The base case is still for Petro to lose, but the uncertainty around that prediction has increased substantially," Kogan wrote. "Recent history warns against underestimating political risks."
The foreign funds that bought a net 1.16 trillion pesos ($395 million) of Colombia's local peso bonds last month, appear not to be overly worried, while the peso has rallied 1.5 percent this year, the biggest gain in South America after Chile's currency. Nomura's "base case" is that Petro won't win, but merely making it to the second round would be enough to trigger a lot of volatility, Castro said.
'Prove the Contrary'
In reply to questions sent to his press office, Petro said, "The markets aren't endorsing the lies put out on social media by the extreme right, talking about policies of expropriation or inappropriate management of public finances, which the candidate Petro has continually refuted."
Petro has 23 percent of voting intentions, according to a poll published Feb. 8, compared to 18 percent for former Medellin Mayor Sergio Fajardo, and 10 percent for former Vice President German Vargas Lleras. The first round of voting will be held in May with a runoff vote in June.
Petro, who made the transition from guerrilla violence to democratic politics more than a quarter of a century ago, has tried to distance himself from the government of Nicolas Maduro in Venezuela, and denies that he's a socialist. As mayor of Bogota, he cut debt and kept the city's AAA credit rating from Fitch intact, and has said he wants to respect the central bank's independence.
None of that is likely to cut much ice with Wall Street, which tends to consider leaders of Petro's political background to be risky "until they can prove the contrary," Castro said. "They've never been given the benefit of the doubt," he said.
Petro's proposed reforms to try to shift the economy away from oil toward agriculture "could damage balance of payments accounts and hurt government revenue, with serious implications for fixed-income markets," Kogan said. "Petro's proposal for a constituent assembly to reform health, education, the justice system, the economy, and politics, would create tremendous uncertainty for business, and it is hard to foresee what reforms would ultimately be enacted."
Before it's here, it's on the Bloomberg Terminal.
LEARN MORE