Hedge-Fund Investors Embrace Europe as Economic Woes Retreat
By and
Money flows to Europe-targeted funds as it's pulled elsewhere

Long/short equities, macroeconomic strategies attract money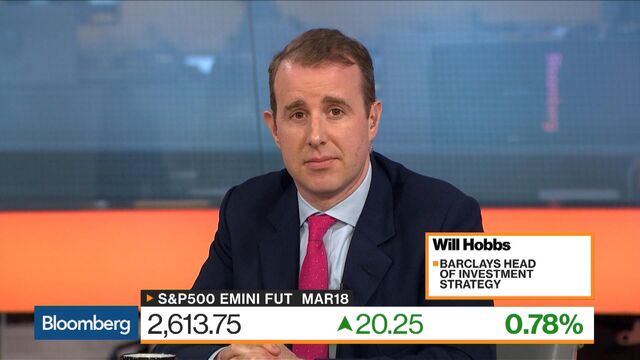 Europe is suddenly the hot market for hedge-fund investment.
After years of being overlooked, the continent is attracting capital from investors who want to take advantage of a recovering economy as the last effects of the euro-zone debt crisis disappear. Buyers are also piling in to diversify portfolios swelled by the stock-market boom -- which after this week's correction looks like a prescient move.
Hedge funds investing only in Europe received about $6 billion in 2017, reversing a funding exodus in the previous 12 months, according to eVestment data. Money pools targeting the U.S. and Asia suffered combined outflows last year of about $24 billion.
"Investors have been massively underweight European funds for years now -- the money never really left the U.S. but it did leave Europe, and now it's coming back," said Nicolas Roth, head of alternative assets at Geneva-based Reyl & Cie. A potential stocks bubble has made investors look again at the merits of hedge funds, which are one of the few products "that could help in a downturn or sideways market," he said.
Some hedge funds also showed their worth in this week's downturn, in which stock indexes around the world tumbled from record highs and volatility spiked amid fears of rising U.S. interest rates.
Read more about the reasons behind this week's market upset
Europe-based funds didn't always seem the best place to invest. For years after the euro-zone crisis, investors either cut positions to funds based in the continent or were underweight relative to the U.S. and Asia.
Now, interest rates that remain at record lows and an economy that's beating the U.S.'s are fueling mergers and acquisitions, giving hedge funds more opportunities to invest. Deal-making in Europe increased 10 percent in 2017, while global M&A shrank by 7 percent, according to data compiled by Bloomberg.
Funds based in Europe but investing around the world are also attracting money. Inflows were almost $31 billion in 2017, the most in seven years and more than six times those into funds based in the U.S. and Asia, eVestment data show.
In December, investors pumped $7.9 billion into Europe-based funds, while pulling $12 billion from funds in the U.S. and $1.6 billion from those in Asia.
Western Europe has also benefited from a relatively benign geopolitical climate, with the rise of far-right parties largely contained in elections in Italy, France and Germany. Brexit has dented confidence in the U.K., making Europe attractive by comparison, while President Donald Trump's election hasn't had the negative effect on the global economy some feared.
Doors Shut
The popularity of Europe-based hedge funds led to several shutting their doors to new money. Melqart Asset Management (UK), which was started by Michel Massoud, closed its multi-strategy fund to new capital in January, when it reached $1 billion. Guillaume Fonkenell's Pharo Management (UK) LLP closed its macro fund to new money after raising $1.2 billion late last year.
Other firms launched new funds to tap into the demand, including Tyrus Capital, which in July started a fund targeting European M&A. And Antoine Estier, the former investment chief at Grupo BTG Pactual SA's hedge-fund unit, raised $750 million for his London-based macro investment firm, a person with knowledge of the matter said in August.
Overall, investors returned to allocate capital to long/short equities, credit, economic trends and money pools investing in emerging markets.
"Europe was a dog for so long, and investors were underweight for years," but sentiment is improving, said Anne-Cathrine Frogg, managing partner at Hugo Fund Services in Geneva. "The irony is, Brexit and Trump are making Europe more unified and more attractive for investors."
Before it's here, it's on the Bloomberg Terminal.
LEARN MORE