Your Evening Briefing
Here are today's top stories
By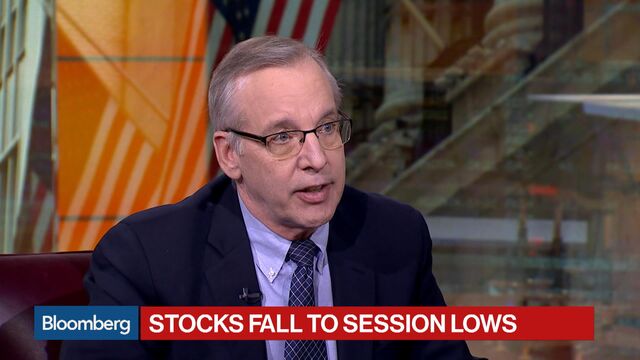 Want to receive this post in your inbox every afternoon? Sign up here.
It's the retail apocalypse and only YOU can save the American mall—or at least attempt to. We put together an online game to test your skills in running a profitable shopping complex in the face of declining foot traffic, ballooning rents, and, of course, Amazon. If you need help (or retail therapy), maybe take some tips from the fanciest shopping center in the country, which is ticking along just fine.—Katie Robertson

U.S. stocks plunged again. The sense of dread that gripped equity markets earlier in the week re-emerged on Thursday as U.S. fell to two-month lows on concern that rising interest rates will drag down economic growth. The Dow plunged more than 1,000 points and the S&P 500 sank 3.75 percent. The Cboe Volatility Index was more than double its level a week ago.
The budget deal hits turbulence. The Senate is poised to pass a bipartisan budget deal Thursday that would avert a government shutdown and suspend the debt ceiling, but the bill faces less certain prospects in the House. The chamber's top Democrat, Nancy Pelosi, who emphasized her opposition with an unprecedented eight-hour address on the House floor on Wednesday, said she won't vote for it without a promise of an open debate on immigration.
Twitter soars the most since its market debut. The company posted its first growth in four quarters, driven by improvements to its app and added video content that are persuading advertisers to boost spending on the social network. It also reported a real profit for the first time, a milestone in CEO Jack Dorsey's turnaround effort.
New drugs are coming to fight nasty flu seasons. The disease has been on a vicious march this winter, evading vaccines, overwhelming hospitals, and prompting school closures from California to Hong Kong. Researchers around the world are pushing ahead with a raft of new medicines, the most advanced of which could be on the market in Japan within months and available in the U.S. and Europe next winter.
The Bitcoin candidate for Congress. Brian Forde has dazzled marquee crypto investors, who hope he can be the Washington friend they desperately need. The first-time Democratic candidate, who's looking to unseat the incumbent Republican in a pivotal Orange Country, Calif., race, has bona fides so strong that many donors have contributed actual Bitcoins to his campaign rather than write a check.
This mall is only for the rich, and it's doing great. While the shopping centers Generation X came of age in are now on death row, luxurious versions of these dinosaurs are largely unaffected. Miami's Bal Harbour Shops, which looks more like a posh resort than a fluorescent-lit complex, is planning a $400 million expansion, has a waitlist of stores wanting in, and regularly tops an annual list of the most productive shopping centers in America.
How to spend your bonus. So you've had a good year. You've already responsibly paid debts, invested in your family's future, and given to charity. Now for the fun stuff! Here are 84 ways to spend your chunk of change, from the practical to the fantastical.

Before it's here, it's on the Bloomberg Terminal.
LEARN MORE