Teva Says 2018 Profit Will Keep Falling as Generic Drug Slump Persists
By
Company notes further deterioration in U.S. generics market

ADRs fall in New York as profit, sales outlooks disappoint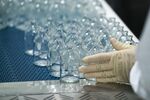 Less than two months into the year, Teva Pharmaceutical Industries Ltd.'s new chief has already effectively written off a recovery for 2018.
Teva's American depositary receipts fell as much as 13 percent in New York after the company said profit and sales will slump further this year. Chief Executive Officer Kare Schultz is tightening belts drastically at the world's largest generic drugmaker as competition to its top medicine escalates.
Schultz took over in November with a mandate to shore up debt and extricate Teva from its crisis. The company went from high-flying seller of copycat medicines to debt-laden mastodon after the $40 billion acquisition of Allergan Plc's Actavis generics business in 2016, clinched just as U.S. prices began to erode.
Teva said it won't be able to charge as much as expected for new medicines amid escalating pressure on prices in the U.S. Sales this year may decline as much as 18 percent to $18.3 billion, the company said, about $1 billion less than analysts had estimated.
Escalating Pressure
"During the fourth quarter of 2017, we noted further deterioration in the U.S. generics market and economic environment, further limitations on our ability to influence generic medicines pricing in the long term and a decrease in value from future launches," Teva said in a statement.

Profit excluding some costs will be $2.25 a share to $2.50 a share this year, the Israeli company said in a statement on Thursday. Analysts had estimated $2.91 on average.
The dire forecast leaves room for Teva to please investors with better-than-expected results down the road, according to a note from Umer Raffat, an analyst with Everecore ISI who rates the shares buy. Yet the drastic miss on expectations highlights the urgency of Schultz's cost-cutting plans. Among the CEO's first moves was slashing the company's workforce by 25 percent. It expects to reach about half that goal by the end of the second quarter, according to a presentation.
Schultz blamed sweeping changes in the U.S. pharmaceutical industry for Teva's mounting woes, ranging from accelerated Food and Drug Administration approval of competing medicines to government regulation that limits drug prices. Even the new tax law hurt the company by limiting its ability to achieve "targeted tax efficiencies."
Teva is also grappling with the loss of exclusivity on Copaxone, the blockbuster multiple sclerosis injection that has fueled its sales for more than a decade. Mylan NV started selling a version of the drug in October, and Momenta Pharmaceuticals Inc. said last month its own copycat was poised for regulatory approval in the first half. Mylan's version now holds about 15 percent of the market in the U.S., according to IMS Health data. New versions of Copaxone account for about half of Teva's forecast drop, Schultz said on a conference call.
Bonds Fall
Schultz has pledged to increase profits and cash flow. He laid out a cost-cutting plan to help Teva deal with its debt of $32.5 billion, which was cut to junk by Moody's Investors Service on Jan. 12. The Petach Tikva, Israel-based company has sent $1.1 billion to its creditors this year and expects to pay back $3.5 billion in 2018, Chief Financial Officer Michael McClellan said. A preliminary prospectus filed last week said groundwork has been laid for $5 billion in bond sales.
Teva's 750 million euros ($916 million) of bonds due October 2028 fell as much as 3 cents on the euro to 77 cents, their lowest level on record, after the publication of the results on Thursday, according to data compiled by Bloomberg.
The company also said Thursday that it's talking with U.S. regulators to avoid a delay in approval for its treatment for chronic migraines after Celltrion Inc., the company that supplies the raw ingredients, received a warning letter raising concerns about manufacturing quality. Teva is part of a four-way race to sell the first-ever dedicated migraine therapy, and analysts say winning that contest is key to capturing a larger share of the market.
Resolving these issues with the FDA takes between six and 18 months, Schultz said on the call.
— With assistance by Luca Casiraghi
Before it's here, it's on the Bloomberg Terminal.
LEARN MORE