Oil Majors Reward Investors After Crude's Rally Revives Profit
By
Statoil, Total, Conoco promise shareholders higher dividends

Exxon, Chevron shares plunged after output disappointments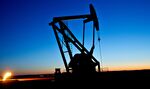 As oil's existential crisis recedes, it's bringing happier times for some shareholders.
The bosses of the world's biggest oil companies are prioritizing investors over investments, channeling the extra cash that comes from $60 crude into share buybacks or higher dividends. Not everyone is equally blessed, with holders of stock in the largest U.S. producers suffering their worst two-day plunge in almost 10 years after disappointing results.
Here are some of the things we learned from fourth-quarter earnings:
As crude rose rapidly from last year's depths, oil companies were faced with a choice -- return money to long-suffering shareholders or invest to expand the business. Norway's Statoil ASA did both, while Chevron Corp. and Total SA prioritized the dividend. Royal Dutch Shell Plc and BP Plc were more conservative, maintained their payout while pledging share buybacks to offset shareholder dilution that occurred during the slump.
For some companies, profit was back up to where it was in the days of $100-a-barrel crude. That's the result of CEOs' focus on squeezing more from each dollar by stalling projects, renegotiating contracts and reducing the workforce. BP boss Bob Dudley said 2017 saw the company's best performance in years.
Oil majors say their focus has changed to earning more from each barrel, rather than pumping it out at all costs. Yet investors still want to see higher production. Exxon and Chevron were both punished for missing analysts' output estimates. Together, the five supermajors' output has been almost flat in the last couple of years.
What saved the oil majors during the downturn is holding them back as oil recovers. The performance of their refining and marketing business, which churns out gasoline and other fuels, was underwhelming. BP's downstream unit missed analysts' expectations by 14 percent while Shell's fell 48 percent from the preceding quarter. They suffered because the price of crude -- the raw material for refineries -- rose more than that of oil products.
Before it's here, it's on the Bloomberg Terminal.
LEARN MORE