markets
Jump in U.S. Yields May Not Lure Foreign Cash, and Here's Why
By
Europe, Japan investors seen facing higher hedge costs in 2018

Increase comes just as U.S. Treasury poised to boost supply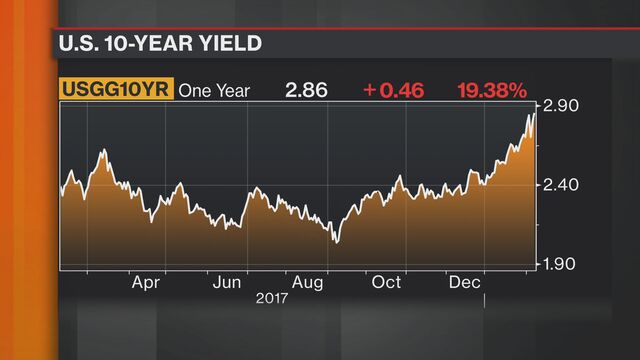 Treasuries are offering the highest yields in four years -- and a multiple of those in Japanese and European bond markets. But don't expect foreign buyers to be breaking down the doors to U.S. debt auctions.
The problem is that overseas buyers are facing mounting costs to protect their bond positions from swings in foreign exchange markets. And given the potential for trade conflicts and monetary-policy shifts to spur currency volatility around the world, there are plenty of reasons to have that insurance.
With the hedging costs taken into account, euro-zone investors only get a yield of about 0.46 percent from owning 10-year Treasuries, compared with a 2.84 percent rate for domestic buyers as of Wednesday. Japan-based funds only earn 0.66 percent.
That poses a challenge for the U.S. Treasury as it copes with the first jump in borrowing needs in almost a decade this year. Higher demand might otherwise have been a silver lining for the climb in yields that's roiled stocks recently. In fact, bidding at a 10-year note auction Wednesday saw the weakest demand since September.
Here's the outlook for hedging costs against the dollar, derived from interest-rate futures:
| | | |
| --- | --- | --- |
| | Hedge cost for Japanese investors | Hedge cost for euro zone investors |
| 2/7/2018 | 2.18% | 2.38% |
| 12/31/2018 | 2.7% | 3.0% |
| 6/30/2019 | 2.8% | 3.0% |
| 12/31/2019 | 3.0% | 2.9% |
And even the widening gap between U.S. and foreign yields won't be enough to tempt investors, according to strategists.
"Hedge costs are more likely to rise on the back of the widening rate differentials, which should make it even harder to buy Treasuries," said Kiyoshi Ishigane, chief strategist at Mitsubishi UFJ Kokusai Asset Management Co. in Tokyo. "Japanese investors in Treasuries are being hit by capital losses and have to pay hedge costs to avoid being exposed to the stronger yen. It's like a triple punch."
The U.S. government relies on overseas buyers to fund its budget deficit, with foreign investors holding about 44 percent of the nation's outstanding debt. As the Federal Reserve slows the amount of maturing government debt it plows back into the market as it withdraws stimulus, the Treasury will have to attract even more outside investment to compensate.
Net Sellers
Japanese investors turned net sellers of U.S. government bonds in 2017 for the first year since 2013, cutting holdings by 3.83 trillion yen ($35 billion), the Asian nation's balance-of-payments data showed Thursday.
Losses on their existing holdings may also deter European and Japanese funds from adding to their Treasury holdings. The Bloomberg Barclays U.S. Treasury Index has dropped about 2 percent in the past three months, while the dollar has weakened about 5 percent against the euro and 4 percent versus the yen.
Yields after hedging are likely to drop further through the final quarter of 2018 as an increase in short-term interest rates makes it more expensive to short the dollar, according to Bloomberg calculations. The U.S. yield curve is expected to flatten in the coming 12 months, suggesting longer-term yields won't rise fast enough to offset higher hedge costs, based on analyst forecasts compiled by Bloomberg.
'No Incentive'
"Unless the U.S. yield curve steepens a lot without the Fed raising rates again, there's no incentive for European bond investors to buy Treasuries on a hedged basis," Chris Iggo, chief investment officer for fixed income at AXA Investment Managers in London, wrote in a note last month. "Any further tightening by the Fed will increase the hedging cost more, and will be a disincentive for European investors to move outside of their domestic markets."
The yield European investors get holding 10-year Treasuries after taking hedging has fallen from 1.57 percent three years ago, while for Japanese funds it has dropped from 1.51 percent.
Foreign investors who buy Treasuries without a hedge in the hope of getting a positive return on currency moves, are also likely to be disappointed. Analysts predict the dollar will trade sideways against the yen and euro, suggesting limited potential for foreign-exchange gains.
Bloomberg's calculation of hedging costs assumes an investor buys dollars in the spot market and simultaneously sells the U.S. currency via three-month forwards. The costs are annualized to make them comparable with bond yields.
The computation of hedge costs is based on implied yields from eurodollar, euroyen Tibor and Euribor futures. The basis, a measure of how closely exchange rates reflect the difference in interest rates between two countries and currently an extra cost for many currency hedgers, was taken as the average since 2008. The basis was extrapolated using forward discounts or premiums in the currency market as well as interbank borrowing costs rather than referring to basis swap prices.
— With assistance by Nicholas Reynolds
Before it's here, it's on the Bloomberg Terminal.
LEARN MORE