cryptocurrencies
Investors Increasingly Willing to Spread Bet Against Bitcoin
By and
Share of customers going short increasing at CFD firm IG Group

Customers more bullish on Ripple, Ethereum than on Bitcoin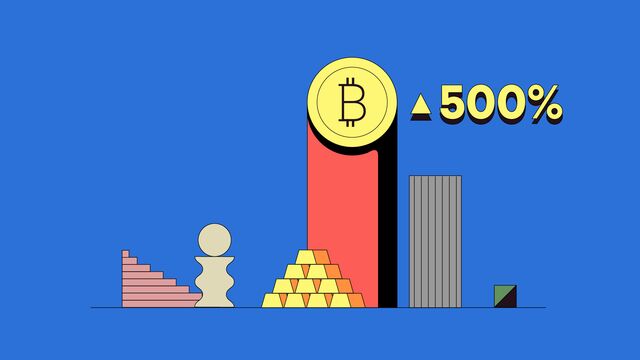 Bitcoin is losing fans.
Investors using London-based contracts-for-difference firm IG Group Holdings Plc have increasingly taken bets on declines in the cryptocurrency. That's a change from a year ago when a far greater majority wanted to be long, according to Adam Blemings, head of futures and foreign exchange.
Last January, more than 90 percent of the company's customers were betting on price rises. Now as many as a quarter are betting on declines, Blemings said in an interview in London on Feb. 5.
"This time last year, everyone wanted to be long Bitcoin," Blemings said. "That's not what we're seeing now."
A QuickTake on Bitcoin's wild price ride
Cryptocurrency prices stabilized this week after the biggest selloff in three years amid greater regulator scrutiny. Bitcoin, peak to trough, dropped as much as 70 percent since December. IG Group Chief Executive Officer Peter Hetherington said last month that the company was one of the biggest users of Bitcoin futures on the CME Group Inc.'s exchange. IG Group, which takes the opposite side of many of it's clients bets, hedges all of its exposure to cryptocurrencies.
Contracts for difference, or CFDs, are derivatives that allow investors to speculate on the price of securities and other instruments, such as cryptocurrencies and commodities. Bitcoin traded little changed at $8,240 on Friday.
Traders on the platform are most bullish on Ripple XRP, with longs outnumbering shorts 18 to one, and 12 to one for Ethereum. For comparison, Apple Inc. longs outnumber shorts 10 to one, while gold and oil have ratios below two to one. Trading volume hasn't decreased since prices of digital currencies started falling in December, Blemings said.
"The small coins are still seeing more buyers than sellers," Blemings said, adding that the company also offers trading in Litecoin, Bitcoin Cash and Bitcoin Gold. He said there are no immediate plans to add to the range of digital-currency products the company offers.
(
Updates with second chart and adds price in sixth paragraph.
)
Before it's here, it's on the Bloomberg Terminal.
LEARN MORE