markets
Bond Traders Have Gone From Hoping for Volatility to Worrying About It
By and
As stocks tumble again, yields remain near a four-year high

Markets can't bank on Fed backstop as Powell takes the reins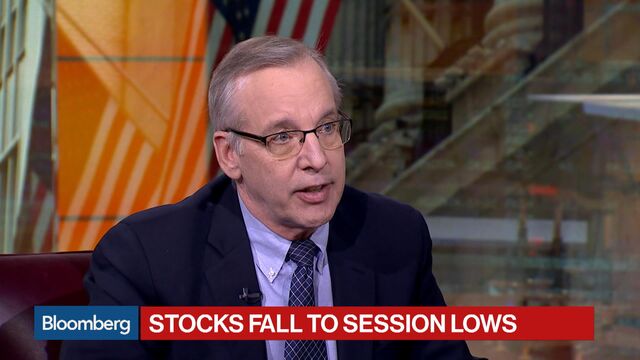 For bond traders, the days of begging for more volatility may be over. Now they're fretting about just how grisly the selloff can get.
Benchmark 10-year Treasury yields held their ground on Thursday, remaining close to the highest level since 2014, even as stocks plunged to their lowest levels in two months. While the Cboe Volatility Index, known as the VIX, is below its recent peak, its bond-market cousin, the 10-year U.S. Treasury Note Volatility Index, is soaring. It's now the highest since April on a closing basis after the steepest one-day increase in two years.

One key worry for bond investors that's contributing to volatility is the unknown: new Federal Reserve Chairman Jerome Powell. For years after the financial crisis, they could count on Ben S. Bernanke and Janet Yellen to essentially limit how far prices can fall in financial markets -- colloquially referred to as a "put," after the option. In other words, the bet was that central bankers would add stimulus or, in recent years, halt their tightening path on signs of unusual turbulence.
Judging by remarks this week from policy makers, who were unmoved by rising yields and the losses in stocks, the Powell Fed isn't rushing to signal that tendency. New York Fed President William Dudley on Thursday called the stock selloff "small potatoes" and said it has no economic implications.
"The market has been kind of having a panic attack -- we really haven't heard from Powell and it would help if he made some soothing comments," said Ed Yardeni, president of Yardeni Research. "I don't think he wants to establish right away that he wants a 'Powell put' the way we had a 'Greenspan put' and a 'Bernanke put.'"
No Harbor
Nothing seems to be going right for the world's biggest bond market: Auctions of 10- and 30-year debt this week saw tepid demand; Japan dumped U.S. debt in December, making 2017 the largest exodus from Treasuries in a decade; and, as the Bank of England just reminded traders, the global economy is humming. 
For now, the market is moving toward higher yields, and strategists are hesitant to call an end to the rout. Momentum seems skewed toward further price declines, they say, even as relative-strength index analysis suggests Treasuries are on the verge of being oversold. The 10-year yield may test 3 percent in the next few weeks, according to BMO Capital Markets.
"The market looks to the Fed during times like this for calming," said Ward McCarthy, chief financial economist at Jefferies LLC. Fed officials "probably have mixed emotions about what's happened. On the one hand it lets some air out of the bubble. But on the other hand, there are some anxieties over how far it will go."
Weaning Process
Bond traders are bracing for volatility across the curve. Bets have already re-emerged on four Fed hikes this year, rather than the three signaled by officials. Then on Thursday, a block trade of put options targeted the 30-year yield to rise to 3.25 percent by Feb. 23, from about 3.14 percent now. That would be the highest since 2015.

In a sign of middling demand, Treasury's $16 billion 30-year bond sale on Thursday drew a below-average bid-to-cover ratio, with indirect bidders taking the smallest share since September. Yields rose from near session lows after the sale, though pared that advance as stocks tumbled. The S&P 500 Index closed 10 percent below its Jan. 26 record.
Whether you want to call it a "bear market" in bonds or not, the climb in yields -- and volatility -- may persist as long as the Fed is unwavering in the face of equities jitters.
"We are in a complacent era," McCarthy said. "And the Fed being there with training wheels in case the market gets wobbly has been expected. The whole point of normalizing is that you are trying to wean the economy and the markets off the Fed's parental instincts."
— With assistance by Edward Bolingbroke, and Kathleen Hays
(
Updates stock prices and volatility indexes starting in second paragraph.
)
Before it's here, it's on the Bloomberg Terminal.
LEARN MORE