EU Struggles to Make Legal Sense of Theresa May's Irish Pledges
By
Problems emerging in efforts to draft withdrawal agreement

May's guarantees may need to cover as many as 60 areas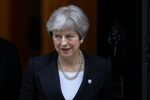 Follow @Brexit on Twitter, join our Facebook group and sign up to our Brexit Bulletin.
The European Commission is struggling to translate the U.K.'s Brexit pledges on Ireland into a legally binding text, even before they present it to the U.K. in negotiations, according to people familiar with the EU side.
In a deal agreed in December to unlock divorce talks, Prime Minister Theresa May guaranteed no hard border will re-emerge on the island of Ireland after Brexit, through a series of cascading solutions. As a fall-back option, May agreed Northern Ireland will play by the same EU rules that apply in the south if all else fails.
Read more: Why Ireland's Border Is Brexit's Vexing Puzzle
Ireland, backed by the EU, wants detail underpinning those pledges included in the withdrawal agreement that will formalize the terms of Britain's exit from the bloc. 
Problems are emerging in the drafting process even before the document goes to the U.K. for negotiation, according to two people familiar with the matter, who asked not to be identified because the efforts are ongoing. Officials have made at least two failed efforts to come up with suitable language to meet Irish and European concerns, according to one person.
Irish Foreign Minister Simon Coveney said the fall back position wouldn't be needed if a "broad trade agreement" was agreed.
"But of course it is difficult to see how we avoid using that fall back position if the British government are determined to pursue a strategy that results in them leaving single market and customs union in an absolute way," he told lawmakers in Dublin on Thursday.

Part of the problem lies in trying to figure out how much of the EU's vast body of law needs to be incorporated, the people said. May's rule alignment promise may need to cover as many as 60 different areas, ranging from agriculture to energy and include proposed rules on how much state aid the U.K. can provide Northern Irish firms, an official said.
And there are more issues vexing European officials, though they may be left until discussions on the future relationship with the U.K. begin in earnest. Policing the agreement is an issue: one possible solution involves giving the European Court of Justice an indefinite role in deciding if Northern Irish firms are sticking to EU rules.
That would anger the pro-British Democratic Unionist Party that props up May's government. She has promised the DUP to avoid barriers between Northern Ireland and the rest of the U.K.
Commission officials maintain that means there will have to be some sort of border checks in Ireland, to prevent non-EU goods flowing through Northern Ireland into the bloc, as long as the U.K. proceeds with its plans to exit the customs union.
The bloc's top agriculture official, Phil Hogan, said in Dublin last week that
a border in Ireland is inevitable if the U.K. leaves the customs union, according to the Irish Times.
Before it's here, it's on the Bloomberg Terminal.
LEARN MORE