Corporate America's Spending Roars On, and These Charts Show Why
By and
Regional outlooks show upbeat plans in manufacturing, services

Long wait times, lean inventories indicate robust demand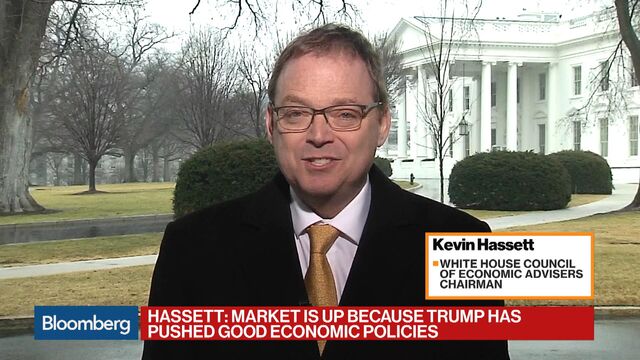 An elixir of tax relief, a less-stringent regulatory landscape and healthier global demand is unleashing a heady pace of capital spending by corporate America.
The government's latest report on gross domestic product showed corporate outlays for equipment sprinted ahead in the fourth quarter at the fastest rate in more than three years. And there's more beyond the most prominent headlines. Other data show capital-spending plans at levels not seen in years.
It's a sign the economy will continue motoring despite the recent hiccup in the stock market, a view that was echoed on Wednesday by Federal Reserve officials William Dudley and Robert Kaplan. A bigger pipeline of business should keep factories plenty busy well into 2018 and help to fuel an economic expansion that's in its ninth year.

Early responses to the statutory corporate tax rate -- which was slashed to 21 percent from 35 percent -- are encouraging. United Parcel Service Inc. last week announced $12 billion in spending and pension contributions, AT&T Inc. plans to invest an extra $1 billion to help prepare for a new fifth-generation mobile network and Comcast Corp. expects to spend $50 billion investing in its infrastructure, media offerings and theme parks over five years.
"The capital spending boom is going to drive growth up this year and then the output from all that capital is going to drive up wages and productivity as we go forward," White House Council of Economic Advisers Chairman Kevin Hassett said Wednesday in a Bloomberg Television interview.
The announcements are consistent with recent data showing an improving investment climate. A measure of the six-month outlook for capital expenditures at Texas manufacturers was close to the highest since May 2006, while for non-manufacturers it was near the best since 2010, a pair of reports from the Federal Reserve Bank of Dallas show.

Such strength is also evident outside the Lone Star State. In the Kansas City Fed region, which extends from western Missouri to Colorado and Wyoming, a gauge of manufacturers' outlook for capital spending advanced in January to the highest in records to 2001.

According to the Equipment Leasing and Finance Association, which issues monthly data on activity in the industry, new business volume climbed 6 percent to $12.8 billion in December from a year earlier.
"With lower corporate taxes and favorable interest rates and credit environment, as well as an economy poised to break out from its pattern of modest growth, I believe these dynamics will create the perfect storm to accelerate growth in the equipment finance industry in 2018," Thomas Jaschik, president at BB&T Equipment Finance, said in a statement.
Other service providers and manufacturers are similarly upbeat. Here's a sample of what purchasing managers surveyed by the Institute for Supply Management had to say:
Responses From Latest ISM Surveys (January)
Sales nationally and internationally are strong in Q1. We are increasing our capex by 30 percent to 40 percent over the previous year.
  -- Chemical products

We have heard reports of additional business due to the recent reduction of tax rates.
  -- Machinery

With several key programs to begin ramping up in the industry, outlook looks good for calendar year 2018.
  -- Transportation equipment

Executive management (is) excited about tax breaks for capex purchases in new tax bill.
  -- Information
Caterpillar Inc., considered an economic bellwether, is a prime example of the pickup in investment and growth in the U.S. and around the world. Dealer sales of the Peoria, Illinois-based company's machines used in construction and mining are accelerating on a year-over-year basis.

Demand for equipment has been so robust that manufacturers are telling customers it's going to take longer to fill their orders. The latest ISM manufacturing data showed the average lead time extended to 150 days, the longest since February 1996. The average for all of last year was a little less than 143 days.
At the same time, inventories of capital equipment relative to sales are running leaner. The stockpile-to-sales ratio for nondefense capital goods excluding aircraft is hovering near the lowest level since 2015. That suggests factory output of machinery, which increased 8.2 percent in the year through December, will remain healthy in coming months.
Before it's here, it's on the Bloomberg Terminal.
LEARN MORE