Bump Stocks Shouldn't Be Regulated, Public Tells ATF
The agency was flooded with about 36,000 comments on the issue.
By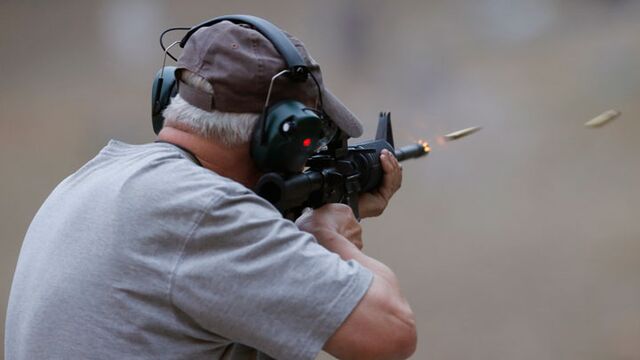 The Bureau of Alcohol, Tobacco and Firearms was recently flooded with comments requesting the agency to abstain from regulating bump stocks, a firearms accessory that gained notoriety after it was used by a gunman who targeted a Las Vegas concert in October 2017. 
A bump stock effectively allows a semi-automatic weapon to simulate automatic fire. In 2010, the ATF found that "the stock has no automatically functioning mechanical parts or springs and performs no automatic mechanical function when installed."
In the wake of the Las Vegas shooting, which left almost 60 dead and more than 500 injured, the ATF requested comments from manufacturers, retailers and consumers on the matter of bump stock regulation. The commenting period "is the initial step in a regulatory process to interpret the definition of machine gun to clarify whether certain bump stock devices fall within that definition," the ATF wrote in a proposed rule document.
The ATF asked 23 questions ranging from what manufacturers charged for wholesale bump stocks to how dealers marketed the accessories. Many of the nearly 36,000 comments the ATF received before the commenting period ended in late January didn't address any of the ATF's questions. 
Interestingly, nearly a third of responses were form letters provided by pro- and anti-gun control advocacy groups. An analysis by The Trace found that 20 percent of the comments were anti-regulation form letters comparable to a form created by Gun Owners of America. On the other side, about 6 percent of pro-regulation form letters were created using a form created by the Giffords Law Center, a gun control group. 
(The Trace is a gun-violence-focused publication backed by Everytown for Gun Safety, a gun control advocacy group funded in part by Michael Bloomberg, who owns Bloomberg LP, the parent company of Bloomberg.com.) 
The majority of comments, however, weren't formulaic letters provided by advocacy groups. To analyze the responses, The Trace downloaded more than 32,000 comments and reviewed them using a computer script, which allowed them to be classified as either form letters or unique remarks. The Trace reviewed 1,000 unique submissions manually, characterizing them as pro- or anti-regulation. That manual check was then extrapolated to represent the larger data set. 
Between form comments and unique comments, 85 percent advocated against regulation while 13 percent argued for regulation. Two percent of responses didn't take a clear side. The Trace's analysis also found that those opposed to regulation typically wrote longer comments than those in favor. 
The comments weren't necessarily indicative of the nation's stance on the issue. A poll conducted by Morning Consult for The Upshot found that 72 percent of voters supported a ban on bump stocks, including 68 percent of Republicans and 79 percent of Democrats.
"I thank every Second Amendment supporter who left a pro-gun comment," Erich Pratt, the executive director of Gun Owners of America, said in a statement after The Trace's analysis was released. 
"This imbalance has a lot to do with our ambivalence about pursuing" regulation, said Peter Ambler, Giffords Executive Director, in a tweet. Regulating bump stocks "is in many ways a fig leaf and is advancing because the NRA didn't want Congress to act."
Before it's here, it's on the Bloomberg Terminal.
LEARN MORE