Style
Don't Call It Retro. 'Archival' Is the Hottest Thing in Fashion
Luxury consignment and a wave of reissued designs signal a particularly nostalgia-soaked moment in style.
By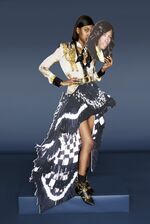 It could be any boutique on Fifth Avenue. Italian tourists in fur coats browse a selection of Chanel Classic 2.55 purses that flank a Gucci Dionysus, last year's holy grail of handbags. Nearby, women with bouncy blowouts pore over Cartier Trinity rings and Kwiat diamond studs. For all the excitement, you'd never guess this stuff was all preowned.
In the RealReal store on Wooster Street in New York's SoHo neighborhood, you might find a $600 Balenciaga City bag, $800 Hermès Collier de Chien bracelets, even a $1,500 Fendi Baguette—the pint-size floppy rectangle that rocketed to "it" bag status in the late 1990s as Carrie Bradshaw's carryall of choice on Sex and the City. That the items aren't directly off the runway doesn't detract from their value; it enhances it.
Almost 10,000 pieces are added to the RealReal's website every day, and some make it to the storefront, which opened last fall and is decorated with velvet couches and flower arrangements from chic florist Fox Fodder Farm. Chief Executive Officer Julie Wainwright estimates that the consignment-clothing startup, with 8 million members worldwide, will double its revenue over the next two years, making the six-year-old enterprise a billion-dollar company.

Other high-end resale sites are growing at similarly exponential rates: ThredUp Luxe opened in September and already forecasts $10 million in sales for this year. Vestiaire Collective, a Parisian e-commerce store, raised $65 million in October and is expanding to China. The three-year-old site Rebag expects annual sales to double in 2018.
Long synonymous with thrift, consignment clothing is an $18 billion business, with about $2.3 billion spent on specialized secondhand apparel websites. (The bulk is at conventional, low-price consignment shops.) Still, "they're part of an incremental chipping away of conventional retail," says Deborah Weinswig, managing director of FGRT (formerly Fung Global Retail & Technology), a think tank.
As Wainwright was putting the finishing touches on the brand's first brick-and-mortar store last fall, another billion-dollar brand was making a fashion statement of its own. Versace used its runway show in Milan last September to reissue some of the greatest hits that Gianni Versace designed in the early '90s. Models swished down the runway in a butterfly pattern that Kristen McMenamy immortalized on the cover of a 1995 issue of Vogue. The Warhol-inspired Marilyn dress that Linda Evangelista donned in a 1993 ad also came back.
The house was riotously brought down when original supermodels Cindy Crawford, Claudia Schiffer, Helena Christensen, Carla Bruni, and Naomi Campbell stormed the catwalk to the sound of George Michael's Freedom 90!—all wearing looks that channeled Versace's 1994 Metal Mesh collection. (Donatella Versace resurfaced these and other styles in a partial nod to the television show American Crime Story, which dramatizes the murder of her brother 25 years ago.)

High-fashion labels have riffed on patterns from their extensive in-house archives for as long as the archives have existed, but the recent push by midmarket and luxury brands to rerelease almost identical replicas of decades-old pieces is new. It extends to both menswear and women's wear, whether it's a reissued Helmut Lang denim jacket from 2004 or Gucci bags pulled from the '70s. Prada built its 2018 collection around nylon, a fabric it hasn't celebrated on runways in decades. Reverence for fashion's good ol' days might sound strange for an industry that prides itself on looking to the future, but the inspiration for retailers, designers, and consumers is, at the moment, coming from the past.
There are two possible explanations for this trend, Weinswig says. "In a world of near-unlimited product choice, these kinds of moves underscore a brand's heritage and can strengthen a connection with consumers by emphasizing their long-standing presence," she says. Struggling retailers such as J.Crew Group Inc., which is marketing the return of the rugby shirts it introduced in 1984, and Gap Inc., which introduced its Archive Reissue—Logo Remix campaign at last month's Grammy Awards, are eager to revisit their glory days to remind shoppers of their strengths. In January, Ralph Lauren relaunched its Snow Beach collection, made famous in 1993 by Wu-Tang Clan's Raekwon, who wore it for the music video Can It Be All So Simple.
The lack of overriding fashion trends may also "have contributed to mass-market brands raiding back catalogs for inspiration," Weinswig says. For this spring, Coach creative director Stuart Vevers rereleased the Rural Free Delivery Mailbox bag, originally introduced in 1972 by the brand's first creative director, Bonnie Cashin, but he updated it with graphics from ever-popular Keith Haring. Hermès, likewise, has revived colorful leather necklaces from the Clochette Collection—initially designed for the house by Martin Margiela in 1997.

" 'Archival' is the buzzword that everyone is using," says Kristen Dempsey, the newly minted brand director of Heroine, which debuted in October as the women's counterpart to the men's peer-to-peer site Grailed. "Vintage has been a cool thing for the past 20 years, but archival is less ambiguous and more about specific designer pieces from specific collections." Today, that could mean scrolling through hundreds of purses on Rebag to find one Lady Dior handbag throwback on resale, or paying full price for a new version of something that first hit stores when you were in kindergarten.
Think of it as the millennial urge for experiences and stories over things, applied to fashion. "It's not very hard for someone to buy a new pair of Gucci shoes or get something from the collections—those are now globalized commodities," Dempsey says. "Something older becomes a lot more difficult to obtain, and that's where the point of pride comes from."
Brands are also attempting to get consumers, especially millennials and the generation after who are new to these designs, to rediscover clothes as a luxury good. This is an urgent need for retailers: Weinswig says an FGRT survey in January found almost 40 percent of respondents agreed that spending on clothes was less of a priority than three years ago. And despite the overall strength of the economy and the willingness of consumers to shell out big over the holidays, apparel spending is still underperforming, up only 1.8 percent in 2017.

Although "recommerce" sites such as RealReal and Rebag are cutting into sales that otherwise would have gone to traditional retailers, there's a growing symbiotic relationship between secondhand and high-end. When Prada resurrected its nylon fabric on totes in its men's fall 2018 show, the RealReal felt the impact immediately: Sales of the original 1984 backpack surged. And once those buyers are exposed to a fashion house's heritage, they become potential future consumers. "We're a customer-acquisition channel for the brands," says Rebag founder Charles Gorra. "When a shopper in her late 20s buys a secondhand luxury bag, the brand is already talking to her several years before she could consider a firsthand product."
Another happy benefit of this symbiosis is the potential to reduce wasteful practices: 75 percent of the 80 billion pieces of clothing produced annually end up in landfills. "Sustainability is a big deal to millennial shoppers," says Shawn Grain Carter, a professor at the Fashion Institute of Technology in New York. "They have a sense of corporate responsibility, and they find nothing wrong with recycling clothing. Buying used does not have a stigma whatsoever."
The RealReal has even entered into a partnership with Stella McCartney that runs through the end of 2018. For every piece of Stella consigned, the RealReal and McCartney will each give $50 to the seller to shop at one of McCartney's stores. "Stella's reaction has been, 'I will sell more Stella if people can resell it,' " Wainwright says. "And it's good for the planet, so everybody wins."
Before it's here, it's on the Bloomberg Terminal.
LEARN MORE