Finance
AmEx's Biggest Problem May Be All Those Executives It Let Leave
The credit card issuer has an impressive alumni network—at its fiercest competitors.
By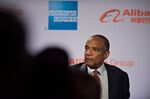 American Express Co. just ended 17 years of steady leadership under Ken Chenault, and that's left his successor with an unusual problem. Chenault's long reign atop the largest U.S. credit card issuer by purchases created a bottleneck for senior executives looking to climb higher. Some took their talents elsewhere. By the time Steve Squeri replaced Chenault as chief executive officer on Feb. 1, many of the company's competitors were run by AmEx veterans deeply familiar with its strategy, strengths, and weaknesses.
Dan Schulman, who stepped down as the head of AmEx's enterprise growth division in 2014, now runs PayPal Holdings Inc. It competes with AmEx as a way to pay for online and mobile purchases, and its stock market value overtook AmEx's last year. Al Kelly, who rose to become president during 23 years at AmEx, became CEO of Visa Inc. in late 2016. Other alumni run credit card divisions at JPMorgan Chase & Co. and Citigroup Inc.
The banks have already given AmEx a taste of heightened competition. In 2016, JPMorgan introduced the Sapphire Reserve, a $450-a-year card that came with an initial sign-up bonus of 100,000 reward points. The product, developed by former AmEx executive Pamela Codispoti, was an instant hit with millennials. An AmEx executive lamented at an investor conference that the offer was a "full-frontal assault" on its Platinum card. The same year, Citigroup took over a portfolio of cards issued to shoppers at Costco Wholesale Corp., after AmEx and Costco couldn't come to an agreement on fees. The warehouse retailer had long been AmEx's largest co-brand partner.
Chris Donat, an analyst at Sandler O'Neill & Partners, says Squeri will be able to tap seasoned managers inside the company as he builds his team. But "they might not have the same level of understanding of their competitors as their competitors have of them," Donat says.
AmEx was craving stability when Chenault took charge in 2001. It had spent years recovering from a predecessor's attempts to turn it into a supermarket for everything from credit to asset management to brokerage, which devastated earnings. As CEO, Chenault initially focused again on cards, signing lucrative deals with retailers and improving premium offerings such as the Platinum card, which attract bigger spenders and earn hefty annual fees. These moves helped quadruple profits on his watch.
The company also became kind of a school for top executives. AmEx has long emphasized training, designating 20 or so vice presidents every year to enroll in an advanced leadership development program offered with Duke University. The program turned into a prime talent-hunting ground for competitors, according to people familiar with the situation.
An American Express spokeswoman declined to comment. Chenault has dismissed the threat posed by former executives. "While we have populated the industry, what people have not been able to export is the uniqueness of our brand," he told the Associated Press. AmEx finished 2017 with a record number of Platinum cardholders, and it's expanded partnerships with hotel chains including Hilton Worldwide Holdings Inc. For shareholders, the question is whether AmEx can maintain its rapid growth. The stock has climbed 51 percent over the past five years, but it lags behind the 100 percent gain of the S&P 500 Financials Index.
No one knows what AmEx faces better than Squeri, who's spent the past two years cutting $1 billion in costs as part of a broad restructuring. "You've got a wonderful business and someone who is going to lead it who is steeped in it," says William Smead, CEO of Smead Capital Management Inc., which has dedicated about 5.4 percent of a $1.25 billion fund to AmEx shares. Moreover, he says, "there's 20 people in development that are probably capable of being CEO in the company someday." One person not on that bench is Susan Sobbott, a 27-year AmEx veteran who ran global commercial services. After Squeri was named as Chenault's replacement, she left on Feb. 1 to seek a CEO position elsewhere.
BOTTOM LINE -
Chenault brought stability to a business that badly needed it. His successor at AmEx will face rivals who know the company very well.
Before it's here, it's on the Bloomberg Terminal.
LEARN MORE