markets
'Fundamentals Are Strong.' Stocks May Have a Different Opinion
By , , and
The selloff may be nothing. Or, it may be an economic warning

Wall Street strategists are telling everyone to buy the dip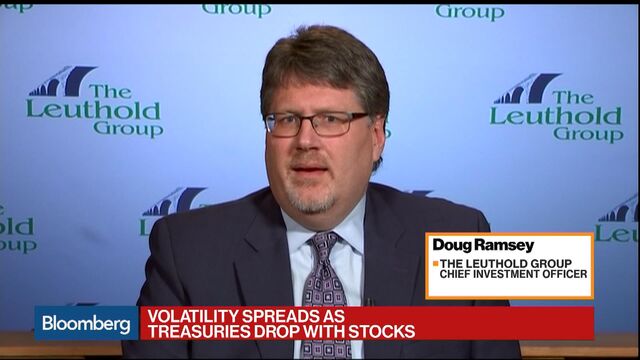 All of Wall Street seems to be saying the same thing: the economy is fine, so keep buying stocks.
But following that advice -- reiterated over and over as stocks have gyrated this week -- would be to ignore the way information has historically flowed between markets and the real world. 
Besides the near unanimity of the view -- always reason for caution -- investors should be aware: in the past, markets have a better record than strategists or economists when it comes to handicapping global growth.

The advice is everywhere. Convulsions in equities have crimped portfolios, but the real economy is sound, Jefferies strategists led by Sean Darby wrote. The "death of low vol" is a trading issue, not one for synchronized global growth, Citigroup's Jonathan Stubbs said. BlackRock Investment Institute argues that since fundamentals remain solid, it's an opportunity to buy.
Count Michael Shaoul, chief executive officer of Marketfield Asset Management, among those who see a larger portent in the events of the last eight days. To him, the episode is reminiscent of February 2007, when the S&P 500 tumbled 6 percent over nine days, a skid now generally recognized as a sign all was not right in the housing market.
"The outbreak of inflation is of course very different in nature to a housing crisis, but the analytical process by which it will be 'discovered' is unlikely to have become more accurate over the last decade," Shaoul wrote in a note. "The widespread recognition of what this means for economic and corporate performance may take months."
While stocks are nowhere near a bear market now, declines show few signs of letting up. Thursday's fall brought the S&P 500's nine-day retreat to 8.3 percent.
A July 2014 study by the research firm CXO Advisory Group LLC found that while changes in gross domestic product "very slightly" presage moves in stocks over the next few quarters, stock signals for the economy are more robust.
As declines snowball, the signal gets stronger. Among all the 20 percent drops that have hit American stocks since the Great Depression, 10 preceded U.S. recessions and only four recessions occurred without a bear market warning, according to data compiled by Bloomberg.
Then there's the record of forecasters. A 2014 study by Prakash Loungani of the International Monetary Fund found that not one of 49 recessions suffered around the world in 2009 had been predicted by the consensus of economists a year earlier. Loungani previously reported that only two of the 60 recessions of the 1990s had been anticipated a year in advance. 
Oxford Economics said in a report on Thursday that its models see no more than a 20 percent chance of a U.S. recession in 2018 and that one analysis pegs the probability of one occurring in the next four to six months at just 1 percent. ''Recent market volatility has not increased the likelihood of a recession," it said. Others concurred.
"Seen over a longer period the correction in the stock market is relatively small and is likely to have no impact on the macro economy," said Torsten Slok, chief international economist at Deutsche Bank AG.
Nobody is saying the market always gets things right. It frequently jumps too soon, as captured by the late Nobel laureate Paul Samuelson, who famously said stocks have forecast nine of the last five recessions. Noisy moves in the Dow Jones Industrial Average get blown out of proportion by pundits and trying to divine a message is futile.
"Sometimes the stock market is right, a lot of the time it's wrong," said Remi Olu-Pitan, who manages a multi-asset fund at Schroder Investment Management Ltd. in London. "It's for investors to decide whether this is an overreaction or actually whether the trends are changing."

With this selloff in particular, the message is tough to parse. Using it to declare that a slowdown is imminent flies in the face of the signals emanating from employment data, consumer confidence and bond yields.
A recession isn't the issue -- it's inflation, an overheating economy, stiffening resolve at the Federal Reserve. What's going on in the stock market may have nothing to do with the rest of the world at all. It was a technical panic engineered by volatility traders, a consequence of nosebleed valuations and too much euphoria, too soon.
All of the arguments hold some water. But as the stock market limps along, with $3 trillion erased from global equity values in just two weeks, the question of whether share prices are saying something about the future of fundamentals is at least worth asking.
"I know the bulls say no big deal," said Ian Winer, director of equities at Wedbush Securities Inc. "'They can disregard the signals from the market, but fundamentals are shifting. Yields are going up, consumer debt is at all-time high, the federal budget deficit is blowing up, the consumer is very stretched."
"Have you thought about the fact that that may be the reason bond yields are rallying?"
— With assistance by Blaise Robinson, Sam Unsted, Brendan Murray, Simon Kennedy, and Vince Golle
Before it's here, it's on the Bloomberg Terminal.
LEARN MORE