business
WWE's Rally Faces Key Test Four Years After Web Gamble Paid Off
By
Media company was ahead of trend in over-the-top distribution

Upcoming programming deals could be 'game changer,' BTIG says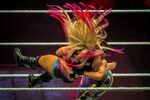 It wasn't clear what would happen to World Wrestling Entertainment Inc. when it broke with industry standards to create its own network four years ago. Investors who stuck around made out handsomely, and now look to the company to leverage its popularity into more lucrative licensing deals.
Up against cord-cutters, WWE opted to cannibalize its profitable pay-per-view business by launching its own network in 2014, a move that engendered "no admiration" from Wall Street, Chief Strategy and Financial Officer George Barrios said in an interview. He remembers a writer saying at the time that if Chief Executive Officer Vince McMahon were smart, he'd march his top lieutenants "up to the top of the building and make us jump."
Now, amid a frenzied push for live and direct-to-consumer content, analysts say other media companies are stuck playing catch up to WWE. The midcap company's shares rose 66 percent last year, their third consecutive year of growth. To keep that rally going, however, the hard-to-define company will need to navigate distribution talks for its marquee programming as well as McMahon's new XFL side project.
Streaming content, or over-the-top distribution, is "what Disney had said it was going to do after it buys Fox in 2019," Laura Martin, an analyst at Needham & Co., said in a phone interview. "That's what CBS is doing with Showtime over-the-top -- what WWE has successfully already done. It's leading by years."

Investors are also growing more confident. Short interest has fallen to 11 percent of float, down from 20 percent in July, according to financial analytics firm S3 Partners. WWE topped analyst estimates for revenue in each of the past four quarters, and earnings estimates in the past two. The company is slated to report fourth-quarter results on February 8, and the average earnings-per-share estimate is targeting 86 percent growth year-over-year.
A mix between an athletic brand and a theatrical enterprise, WWE has attracted 1.5 million monthly subscribers, a social media following that trumps the National Football League and a growing share of international viewers.
Hilliard Lyons analyst Jeffrey Thomison said it's an easy guess why WWE's fandom is expanding: The content is grossly entertaining. The Stamford, Connecticut-based company is also savvy at connecting with its fan base on social media platforms. WWE's YouTube channel had 22 million subscribers as of February 6, more than that of the NBA, NHL, NFL and MLB YouTube channels combined. That level of standing may have helped nudge along a deal with Facebook Watch to stream an exclusive 12-episode series.
"I try to go to the events whenever they're relatively close," Thomison said in a phone interview. "I'm there for research purposes, but I have to admit that they're always a lot of fun."
The company's show of strength will be tested in the coming months as it aims to attract more competitive bidding for U.S. distribution rights to its core Raw and SmackDown programming, currently in agreement with Comcast Corp.'s NBCUniversal and airing on USA Network. A new deal is expected to be announced sometime between May and September. Investors are also awaiting distribution agreements in India and the U.K.
The new U.S. deal may be a "game changer in terms of profitability" for WWE, Brandon Ross, an analyst at BTIG, said in a phone interview. Television is still the biggest money-maker at the company. In 2014 it generated $130 million in annual revenue across seven licensing deals for its core programming, stepping up to $235 million in 2018.
Some see reasons to be cautious. Citi analyst Jason Bazinet downgraded the stock to hold in December, saying it was hard to find fundamental drivers to justify the year's rally. Others may worry about McMahon being pulled away from his CEO duties as he plans to start a new professional football league in 2020, although McMahon says the new league will be completely separate from WWE.
CFO Barrios, meanwhile, compares WWE's evolution to the "hero's journey" format commonly found in Greek mythology. The company's advancements in direct-to-consumer programming are "now viewed as an archetype" for the media industry, he said.
"People look very closely at what we've done."
Before it's here, it's on the Bloomberg Terminal.
LEARN MORE