quicktake
A Guide to Russia and North Korea's Status in the Olympics
By and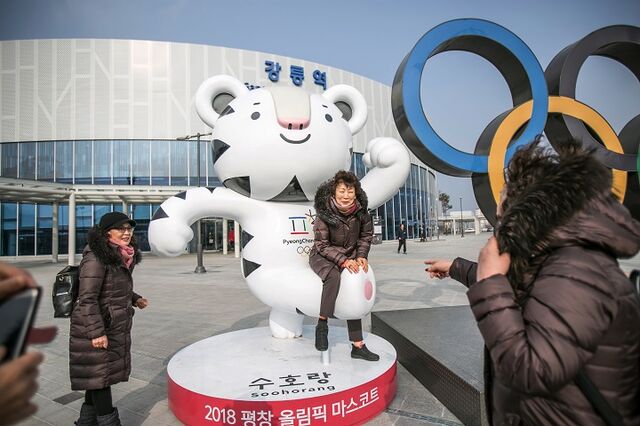 Russia's national anthem has been a regular refrain at medal ceremonies during past Winter Olympics, but "Gimn Rossiiskoi Federatsii" (translation: National Anthem of the Russian Federation) won't be heard at the Pyeongchang Games in South Korea. In fact, there's a greater chance -- albeit not so great -- of North Korea's "Aegukka" (translation: The Patriotic Song) being played. That follows a buildup to the Olympics, which get under way Friday, that's been dominated by doping politics -- and actual politics.
1. What's the status of Russian and North Korean participation?
In December, the International Olympic Committee (IOC), the Switzerland-based governing body of the Olympics, banned Russia from sending a team to Pyeongchang for having operated a state-sponsored program to enhance athletic performance through drugs. Many individual Russian athletes will still be able to compete, however. North Korea, for its part, will participate in the Winter Games for the first time in eight years, the result of talks in January with its neighbor and Olympic host, South Korea. Olympic authorities had been trying since at least 2014 to smooth the path for its participation.
2. How will their athletes be represented?
Some Russian athletes who pass drug tests will be allowed to participate as "Olympic Athletes from Russia," competing under the Olympic flag rather than the Russian one and accepting any gold medals to the tune of the Olympic anthem rather than "Gimn Rossiiskoi Federatsii." North Korea's 22 participating athletes include a dozen women's ice hockey players who will play alongside their South Korean counterparts on what will be the first unified Korean team at an international sporting event since 1991. The two Koreas will march together at the opening ceremony under the Korean unification flag.
3. Aren't these huge steps forward for international sports?
Yes and no. Russia may seem like a huge scalp for the anti-doping movement, but the saga merely underlined the weakness of the system: the Russian scheme operated for years without detection and was only uncovered thanks to a whistle-blower, Grigory Rodchenkov, the former head of Moscow's anti-doping center. (His allegations, the subject of the Netflix documentary "Icarus," were later backed up by forensic evidence.) To some critics, the presence of any Russian athletes in Pyeongchang undermines the fight against doping. North Korea's interest in participating -- signaled in a New Year address by its leader, Kim Jong Un -- could mean at least a temporary pause in tensions on the Korean peninsula over his regime's nuclear and missile testing. But we've been here before: The two nations paraded under the same flag at opening ceremonies of Olympic Games in 2000, 2004 and 2006. In that same period, North Korea withdrew from the Treaty on the Non-Proliferation of Nuclear Weapons and staged its first nuclear test.

4. What will North Korea's participation mean for medals?
Not much. In eight Winter Olympics, North Koreans have won just two medals -- a silver and a bronze. This time around, North Korean Olympians will compete in figure skating, Alpine skiing, cross-country skiing and short-track speed skating, along with women's ice hockey on the unified team. North Korea's entourage will include a cheering squad, art performers and martial artists, with Kim represented by his regime's ceremonial head, Kim Yong Nam, and by his sister, Kim Yo Jong. Believed to be in her late 20s, Kim Yo Jong shares the same mother as Kim Jong Un and stands to be the first member of the Kim dynasty to visit South Korea.
5. Exactly how many Russian athletes will be competing?
Even with the ban, there will be 169 Russian competitors. (The U.S. is sending 243.) To some supporters of the anti-doping fight, that's 169 too many, given the allegations -- upheld in an independent report -- of one of the biggest sports doping conspiracies in history.
6. How exactly did Russia pull off its doping program?
According to the World Anti-Doping Agency, much of the dirty work took place at the Sochi Olympics in Russia four years ago, when laboratory and state security officials would switch drug-contaminated samples with clean ones. An independent report for the agency found the operation involved about 1,000 athletes between 2011 and 2015. Russia denies the allegations, saying they are a conspiracy. And while the IOC has sanctioned more than 40 Russians for doping offenses at the Sochi Games in recent months, 28 of them won an appeal last week to have their lifetime bans revoked. In a late legal twist, 13 of the 28 and two coaches failed to overturn the IOC's decision refusing to invite them to Pyeongchang, just hours before the opening ceremony. Another 32 Russians lost their appeals against the IOC's decision to consider them ineligible for Pyeongchang. That group included the South Korea-born Olympic speed-skating champion Viktor Ahn.
7. What will Russia's penalty mean for the medal count?

Russia remained a winter-sports powerhouse even after the breakup of the Soviet Union, so the absence of many of its top athletes will likely open opportunities for other perennial medal gatherers such as Norway, Germany, the U.S. and Canada.
8. Have Olympians competed without a country before?
Many times, to get around political transitions, international sanctions and the like. Medals were won by independent Olympians in 1992 (Yugoslavian shooters) and in 2016 (Kuwaiti shooters). There was a Refugee Olympic Athletes team at the Rio Olympics in 2016 that included a Syrian swimmer and a South Sudanese runner.
The Reference Shelf
Before it's here, it's on the Bloomberg Terminal.
LEARN MORE