Trump's Military Parade Takes Shape
By
Washington Post reported Tuesday president asked for parade

Trump has mused about parade since attending Bastille Day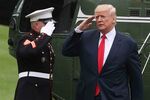 U.S. Defense Secretary Jim Mattis said the Pentagon is putting together options for a military parade President Donald Trump has requested after attending a similar display in France.
"We're all aware" in the U.S. of Trump's "respect" for the military, Mattis said at a White House briefing Wednesday, adding that the Pentagon plans to send proposals to the White House for a decision.
Trump in September mused about holding a French-style military parade in Washington during the U.S. Independence Day celebration. He raised the idea at the start of a meeting in New York with French President Emmanuel Macron, as he gushed about the Bastille Day military parade in Paris that Trump attended in July as Macron's guest.
"It was a tremendous day, and to a large extent because of what I witnessed, we may do something like that on July 4th in Washington down Pennsylvania Avenue," Trump said. "We're going to have to try to top it, but we have a lot of planes going over and a lot of military might, and it was really a beautiful thing to see, and representatives from different wars and different uniforms."
The Washington Post first reported on Tuesday that Trump had ordered the Pentagon to plan a parade, and said the military prefers Veterans Day for the event in part so that it seems less associated with the president and politics.
White House Press Secretary Sarah Sanders said Wednesday that the administration hasn't made a final decision on whether to have a parade. The president is "exploring options" for different ways to "highlight and show pride in the military," she said.
Trump's interest in a military parade was ridiculed by his political opponents. The Senate's second-ranking Democrat, Dick Durbin of Illinois, said he wouldn't attend the event.
"I believe that spending millions, if not more, on the president's amusement is a colossal waste of funds that should be spent to make sure our troops are ready for battle, to come home safely, their families receive all the support they deserve, and that the waiting lines at VA facilities have been reduced," Durbin told reporters at the Capitol. "That's how we can honor our veterans. Not with a parade for the president."
The Washington, D.C. City Council -- which is dominated by Democrats -- mocked the idea of the city hosting a parade featuring military hardware. The Post story noted concern that heavy tanks or other equipment could damage the city's roads.
"The DC government will open on time today. DC Public Schools will open on time today. Sadly, the Giant Tank Parade is canceled. Permanently," the council's official Twitter account posted.
And a Republican senator, Lindsey Graham said on CNN that a parade would be "cheesy and shows weakness." He later tweeted that "I fully support" the idea, but that "my hope is this parade will not focus on military hardware, but on military services, sacrifice and saying 'thank you' to those who protect our nation."
— With assistance by Sahil Kapur
Before it's here, it's on the Bloomberg Terminal.
LEARN MORE