Mitsubishi Aims to Sell More Than 1,000 MRJ Planes in 20 Years
By and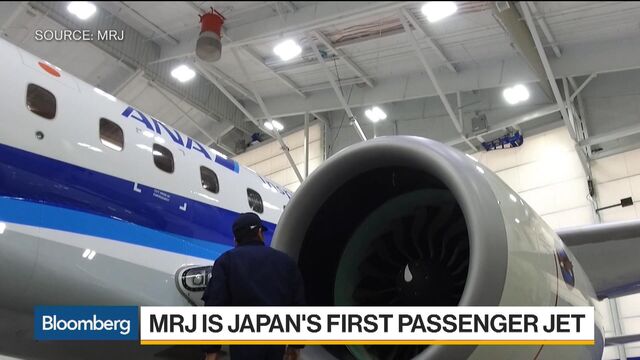 Mitsubishi Aircraft Corp., which is developing a small regional jet, is targeting to sell more than 1,000 of the planes in 20 years, with a quarter of the orders coming from Asia.
The Mitsubishi Regional Jet, or MRJ, has passed the mid-point of the flight test program clocking more than 1,700 hours, Yugo Fukuhara, vice president of sales at Mitsubishi Aircraft, told Haslinda Amin in a Bloomberg Television interview on Wednesday at the Singapore Airshow.

"The airplane is getting more and more mature," he said. "We got strong interest from potential customers." China is a potential market besides other countries in the Asia Pacific, he said.

The project, plagued by repeated delays and cost overruns, recently suffered a setback after a U.S. carrier canceled an order for 40 jets following a change in ownership. With the first delivery scheduled in mid-2020, parent Mitsubishi Heavy Industries Ltd. is seeking to compete with Brazil's Embraer SA and Canada's Bombardier Inc. in the market for aircraft with fewer than 100 seats.
The Japanese company is now left with 407 orders, counting a letter of intent for 20 planes as well. ANA Holdings Inc.'s All Nippon Airways will take the first delivery of the plane, which can seat as many as 92 people.
Mitsubishi Aircraft is currently testing four of the five jets it built to win certification in the U.S. It plans to deploy two more this year to accelerate the approval process, Mitsubishi Heavy Chairman Hideaki Omiya said in Davos last month.
— With assistance by Karolina Miziolek
Before it's here, it's on the Bloomberg Terminal.
LEARN MORE