politics
Assange Continues Battle to Get U.K. Arrest Warrant Dropped
By and
Judge considering other arguments by Assange's lawyers

Assange has lived in Ecuadorian embassy in London since 2012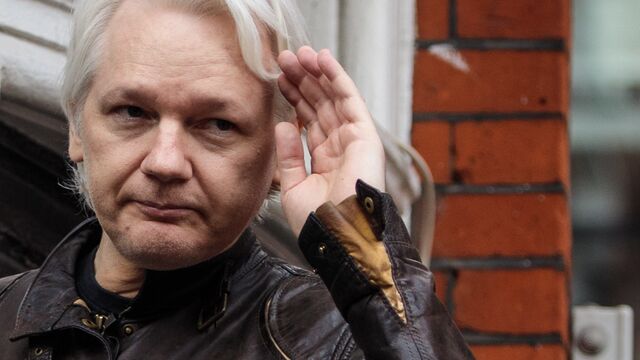 WikiLeaks leader Julian Assange is making another bid to leave Ecuador's embassy in London, saying his 5 1/2-years in the Kensington building has been punishment enough.
The Australian on Tuesday failed to convince Judge Emma Arbuthnot to overturn the U.K. arrest warrant that he's avoiding by hiding in the office. Assange's lawyer raised several new, broader points that seek to ensure he wouldn't be charged should he abandon his haven.
The second set of "public interest" arguments "look at the whole picture," while the argument dismissed by Arbuthnot used only technical points of the law, Gareth Pierce, Assange's lawyer, said after the hearing.
Assange's lawyers argued that the 2012 arrest warrant had lost its purpose when Sweden dropped sexual-assault charges against him. The 46-year-old has been in the Ecuadorian embassy in London to evade deportation on a U.K. warrant for failing to appear at court.
Mark Summers, the lawyer representing Assange, argued that his client has been punished enough by his time in the embassy, and he was justified in his decision in 2012 not to attend court.
Arbuthnot agreed to consider the broader points and will make a decision on Feb. 13. With the order still valid, Assange is at risk of being arrested by London police if he leaves the embassy in London's tony Kensington neighborhood.
Assange walked into the embassy in June 2012, after exhausting options in U.K. courts to avoid extradition over the allegations stemming from a 2010 trip to Sweden. He refused to return to the Scandinavian country, citing risks he would be extradited to the U.S.
Assange and WikiLeaks have become famous over the past decade for disclosing confidential documents about the U.S. government and politics. The website injected itself into the middle of the last U.S. presidential race by publishing hacked emails from Hillary Clinton's campaign.
Before it's here, it's on the Bloomberg Terminal.
LEARN MORE