Travis Kalanick 'Crossed a Line,' Former Uber Board Member Said
By
Bill Gurley's testimony is unsealed as Kalanick set to testify

Unclear if Waymo trade-secrets jury will hear the criticism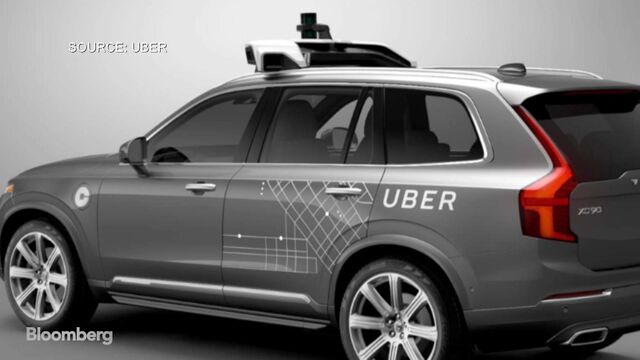 Former Uber Technologies Inc. Chief Executive Officer Travis Kalanick deceived the company's board of directors by failing to disclose important information at the root of the lawsuit and trial brought by Waymo, a former Uber board member said in a court filing.
Bill Gurley, a partner at venture capital firm Benchmark, told Waymo's lawyers in an August deposition that Kalanick's failure to tell the board critical information about an acquisition "crossed a line of violating fraud and fiduciary duty."
Had Kalanick been truthful with the board about details of a key report, Benchmark wouldn't have voted to approve the acquisition that gave rise to the trade-secrets case now on trial in San Francisco federal court, Gurley said, according to the transcript of the deposition filed with the court overnight.
Kalanick is scheduled to testify Tuesday or possibly Wednesday in a trial over claims that Uber used stolen Waymo trade secrets to speed up its efforts to develop self-driving cars. It was unclear whether jurors will learn of Gurley's August testimony, though Waymo has indicated it plans to call him as a witness.
Waymo-Uber Trial Puts Spotlight on Tech's Age-Old Talent War
In its overnight filing, Uber asked the judge to block Waymo from questioning Gurley in front of the jury about his reaction to a due diligence report that vetted the acquisition of Otto, the self-driving technology startup formed by engineer Anthony Levandowski just before he left Waymo in January 2016. Uber argued that it would be "improper and prejudicial" for jurors to hear Gurley commenting on the acquisition in hindsight after he'd reviewed the report in 2017.
"The testimony the company is seeking to exclude is irrelevant and speculative, and it should be excluded," a representative of Kalanick said Tuesday in an email.
Benchmark dropped a lawsuit last month against Kalanick when SoftBank Group Corp.'s $9.3 billion share purchase closed, one of the conditions the firm set for the settlement. The other was to implement a slate of governance reforms, including a shift in voting power away from early Uber shareholders, Kalanick and Benchmark among them. Kalanick reaped $1.4 billion as part of the SoftBank stock transaction, which was completed Jan. 18.
Uber is also asking U.S. District Judge William Alsup to bar Waymo from sharing with jurors certain portions of the due diligence report that the ride-sharing company argues are "hearsay" and unreliable as factual evidence. That includes notes of an interview of Levandowski by a forensics investigator, which was previously sealed from public view. In the notes, the engineer is recorded saying "yes" when asked whether he had any Google trade secrets.
Levandowski has refused throughout the case to answer questions about whether he took proprietary information from Waymo to Uber, citing his constitutional right against self-incrimination.
Waymo argued in its own filings that the Gurley testimony and the Levandowski interview are fair game and that excluding them would deprive jurors of important and relevant information.
The case is Waymo LLC v. Uber Technologies Inc., 17-cv-00939, U.S. District Court, Northern District of California (San Francisco).
Before it's here, it's on the Bloomberg Terminal.
LEARN MORE