That Sure Is a Weird VIX Chart, But Cboe Says Trading Was Fine
By and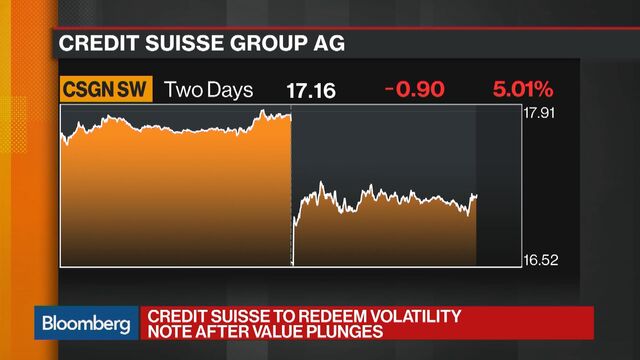 The VIX took an odd-looking path this morning, but its owner says related derivatives traded just fine.

Cboe Global Markets Inc., which owns the intellectual property rights for the VIX, says the volatility gauge wasn't halted even though it flatlined for a couple of hours. There was just a "lack of quoting activity" by traders, the company said in a statement. "VIX futures and options continued to quote and trade."
Cboe's shares plummeted by as much as 17 percent on Tuesday, the most on record, after Credit Suisse Group AG said it's liquidating a note that uses VIX derivatives -- which can only be bought and sold on the Chicago-based exchange and have helped fuel its growth. Monday's surge in VIX futures amid a rapid collapse in stock prices triggered the redemption by the Swiss bank.
Read more about Cboe's success with the VIX
Before it's here, it's on the Bloomberg Terminal.
LEARN MORE