Snap Revenue Surges on User Growth, Advertising Gains
By
Shares jump as company tops estimates for first time since IPO

In rare win, social-media underdog adds clients, runs more ads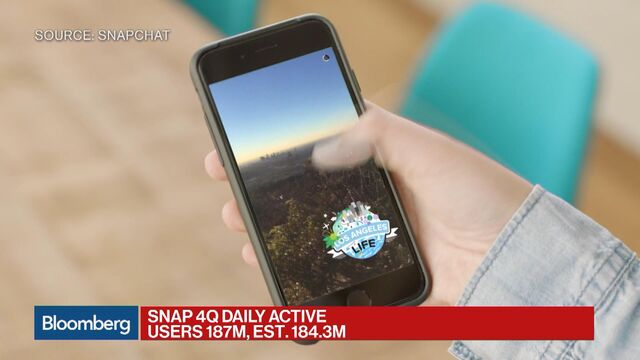 Don't count Snap Inc. out just yet.
The company delivered sales that blew past analysts' expectations, its first upbeat quarterly report since going public, as advertisers start to get more comfortable spending money on its Snapchat app. The stock jumped as much as 31 percent in extended trading.
Snap's first year as a public company has been marked by hurdles, including the loss of its heads of product and engineering. Facebook Inc. has copied some of Snapchat's most popular features for bigger audiences, while a dramatic redesign of the Snapchat app is rolling out slowly. The numbers on Tuesday may help some on Wall Street revisit their original thesis on the company: that Snap, already popular with young people, has enough growth potential to carve out a solid slice of a digital ad market dominated by Facebook and Google.
"It's been a roller coaster mismatch between expectations and reality, but the benefits of all their initiatives are finally starting to come to fruition," said James Cakmak, an analyst at Monness Crespi Hardt & Co.
In the middle of 2017, Snap began moving to an automated bidding process for selling ads, making it easier for more marketers to buy spots. By October, the system was mandatory. Though that dented average prices, the hit was offset by new customers and a rising number of ad views.
"This decision quickly paid off," Snap Chief Strategy Officer Imran Khan said during a conference call with analysts. "In three months, we more than tripled the number of advertisers spending in our auction."
Snap said fourth-quarter sales jumped 72 percent to $285.7 million, beating the $252.8 million average projection of analysts, according to data compiled by Bloomberg. Snapchat had 187 million daily active users in the fourth quarter, up 18 percent from a year ago and ahead of the 184.3 million analysts estimated.
Excluding certain items, the Los Angeles-based company reported a loss of 13 cents a share, compared to the 16-cent loss analysts predicted. The net loss was $350 million in the fourth quarter, for a full-year loss of $3.45 billion.
Average revenue per user, a closely watched number, rose 46 percent to $1.53 in the final period of 2017, while a similar measure of costs grew much more slowly, according to the company.
"Our business really came together towards the end of last year," Chief Executive Officer Evan Spiegel said in a statement.
Still, not everyone on Wall Street is convinced Snap can compete with its larger ad rivals.
"I remain skeptical about their revenue potential. While they blew away expectations, those expectations were quite low," said Michael Pachter, an analyst at Wedbush Securities. "Snap faces a steep uphill climb to compete for ad dollars."
Before it's here, it's on the Bloomberg Terminal.
LEARN MORE