Platinum CEOs See Supply 'Flat at Best': Africa Mining Update
By , , and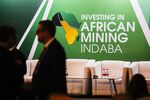 Mining executives, investors and government ministers are meeting in drought-hit Cape Town for the African Mining Indaba, the continent's largest gathering of one of its most vital industries.
Recent multiyear highs for many commodities have the world's biggest miners swimming in cash and new demand from electric vehicles mean once-overlooked metals like lithium and cobalt are grabbing the spotlight. But it's not all blue skies, as the industry grapples with regulatory changes and uncertainty in countries including the Democratic Republic of Congo and Tanzania, as well as host South Africa.
Here are the latest developments, updated throughout the day. (Time-stamps are local time in Cape Town.)
Platinum CEOs See Supply 'Flat at Best' (3p.m.)
Platinum supply will be constrained by a lack of capital investment as a result of muted prices for the metal and pressure on profits from a strong rand, according to the heads of some of the world's largest producers, who appeared on a panel together. There's no incentive for expansions or new output and any growth projects will only serve to top up declining production levels, said Anglo American Platinum Ltd. CEO Chris Griffith. "We think that supply is at best flat," Griffith said. That also applies to Anglo Platinum itself -- production increases will be limited in this environment, he said.
The group, which also included the CEO of Impala Platinum Holdings Ltd. and Sibanye's Neal Froneman, discussed the implications for platinum demand from the expected growth in electric vehicles -- which don't need the metal to reduce pollution -- and the dark clouds hanging over diesel-powered cars. Both concerns are overblown, Froneman argued. Industrial demand is strong and often overlooked, said Griffith. He also said that efforts to cut loss-making production and reduce costs mean that the majority of the industry is now profitable at about $900 to $1,000 per ounce platinum.
Sibanye Still Gold Bulls After Platinum-Group Spree (12:15p.m.)
Sibanye Gold Ltd. Chief Executive Officer Neal Froneman said he's still a gold bull and wants to do more in the gold sector after a buying spree that included the $2.2 billion takeover of a U.S. palladium miner and the proposed purchase of Lonmin Plc. However, the company hasn't been able to find value-adding opportunities in gold and its focus on reducing debt means it won't use "precious cash" for acquisitions, he said. And if the miner is to use equity, then Sibanye needs to achieve a "rerating" of its stock, Froneman said. That may involve reconsidering its stock-exchange listings.
Randgold CEO Rails Against 'Short-Termism' (9:35a.m.)
Randgold Resources Ltd.'s Mark Bristow criticized governments and mining companies alike for a tendency towards what he called "short-termism." The push to extract as much as possible as quickly as possible means deposits aren't exploited in the most profitable way, drives up costs and doesn't generate the best value for host countries over the longer term, he said. In the Democratic Republic of Congo, it's important that foreign investors work together to find a solution to recent changes to a mining law that will financially hurt producers in the country, Bristow said.
De Beers Eyes Prospects in Zimbabwe, Congo (8a.m.)
De Beers would be interested in exploring for diamonds in Zimbabwe across the border from its $2 billion Venetia mine if it can get the necessary approvals, Phillip Barton, chief executive of the gem-producer's South African unit, said in an interview. "Why would it be just on the one side?"
The company would also consider resuming exploration in Congo, if the political situation improves. "If the situation is right in a number of criteria, then we would go back," Barton said.
Before it's here, it's on the Bloomberg Terminal.
LEARN MORE