politics
Mnuchin Says U.S. Won't Target Russian Debt With Sanctions
By
Treasury report said move would cause global financial turmoil

Treasury secretary testified before House panel on Tuesday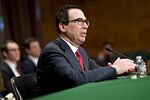 Treasury Secretary Steven Mnuchin said the U.S. isn't pursuing sanctions against Russian government debt after issuing a report that concluded such a move would risk widespread financial turmoil.
"We're targeting specific sanctions to bad individuals and companies as opposed to sanctions on debt," Mnuchin said Tuesday during a hearing of the House Financial Services Committee.
The Treasury report obtained by Bloomberg last week concluded that expanding sanctions to new Russian sovereign debt and derivatives could destabilize markets and spread beyond Russia to have "negative spillover effects into global financial markets and businesses."
Investors had interpreted the report's findings as an indication that the U.S. had taken debt market penalties off the table despite pressure from Congress for additional sanctions on Russia for its meddling in the 2016 presidential election.
Still, Treasury undersecretary for international affairs David Malpass said on Feb. 2 that the department hadn't ruled out sanctioning Russian debt. "The report is an analysis of possible effects, not in any way a road map for or against sanctions," he said.
Congress ordered the report on the impact of potential sanctions on Russian sovereign debt in legislation passed in August. It marked another instance in which the Trump administration appeared to take a softer line on Russia than Congress had hoped.
The administration refused to add new sanctions on Russia's defense industry and issued a public list of 'oligarchs' that was less targeted than expected. President Vladimir Putin said last week he'd decided not to proceed for the moment with planned retaliation for the U.S. move.
Before it's here, it's on the Bloomberg Terminal.
LEARN MORE