Mnuchin Says $1 Trillion U.S. Debt Plan Isn't Affecting Markets
By and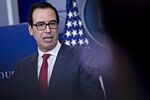 Treasury Secretary Steven Mnuchin said the U.S. government's plan to borrow what analysts expect to be more than $1 trillion this year isn't contributing to volatility in markets.
"I don't think that's had an impact on the market at the moment," Mnuchin told reporters at the Capitol on Tuesday. "The debt markets are one of the most liquid markets in the world and are reacting very well."
The Treasury Department said last week that the U.S. would boost note and bond sales for the first time since 2009 this year to finance rising budget deficits, fueled in part by the tax overhaul President Donald Trump signed into law at the end of last year.
JPMorgan Chase & Co. strategists last month lifted their forecast for net new Treasury issuance in 2018 by about $100 billion, to around $1.42 trillion, after the passage of the tax bill. Net sales in 2017 totaled about $550 billion.
Ward McCarthy, chief financial economist at Jefferies LLC, said that the government's borrowing plan could be contributing to a selloff in the U.S. stock market.
"It's a massive increase in a relatively short period of time and that has some people nervous," he said in an interview. He has followed debt markets for more than three decades.
Before it's here, it's on the Bloomberg Terminal.
LEARN MORE