technology
Kalanick Had Explaining to Do in His First 45 Minutes as Witness
By and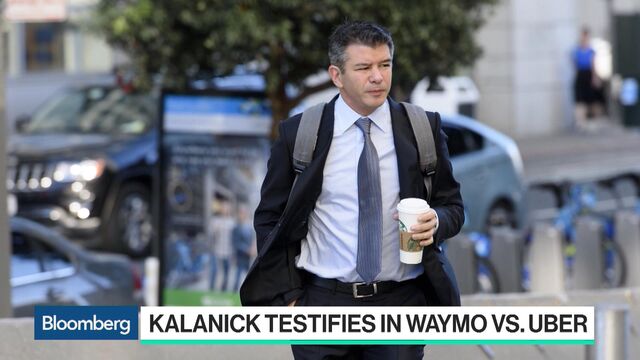 Some evidence may not look so good for Travis Kalanick's innocent explanation that he and the self-driving car rock star he poached from Waymo, Anthony Levandowski, were just "brothers from another mother."
Like when Kalanick was asked Tuesday at the trade-secrets theft trial about his December 2015 meeting with the head of Uber's driverless car program in Pittsburgh, following a meeting he had two days earlier with Levandowski, who was then still working for Google. According to the notes of the in-house meeting shown to the jury, Kalanick outlined a list of things he wanted: "source, all of their data, tagging, road map, pound of flesh, IP."
How was Uber's former chief executive officer supposed to explain that away -- against claims that the ride-hailing giant used stolen Waymo technology to speed up its efforts to develop autonomous cars?
Pound of flesh is "a term I use from time to time," Kalanick testified. Waymo's lawyer zeroed in on "IP," asking if Kalanick understood it meant intellectual property -- and could be understood as something that belongs to someone else, including trade secrets.
"That's fair," Kalanick said. He said he didn't remember listing IP at the meeting but said he doesn't deny it, either.
He may get a chance to elaborate Wednesday under more friendly questioning from Uber's lawyer.
For more on Kalanick, check out the Decrypted podcast:
Before it's here, it's on the Bloomberg Terminal.
LEARN MORE