business
Lululemon Looks for New Leader After CEO Exits on Misconduct
By
Potdevin's behavior 'fell short' of standards of behavior

Former Gap chief Glenn Murphy to take executive chairman role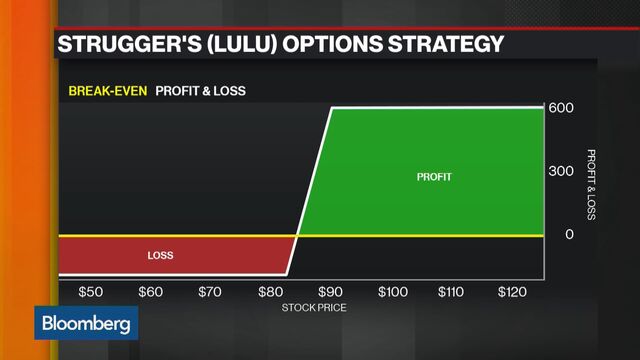 Laurent Potdevin, who ran Lululemon Athletica Inc. for four years and brought a passion for "mindfulness" to the job, is now leaving the yogawear brand under a cloud of misconduct.
The 50-year-old chief executive officer abruptly resigned on Monday in the wake of unprofessional behavior that the company declined to identify. Potdevin will receive a payment of $5 million from Lululemon, which has begun a search for a new leader.

The surprise move follows Potdevin's largely successful efforts to help Lululemon recover from previous gaffes. When he took the helm in 2014, the company was coming off a recall of its Luon yoga pants, which were known for becoming see-through when people wearing them bent over. Founder Chip Wilson also had irked Lululemon's mostly female customers by saying that "some women's bodies" weren't meant for the company's clothes.
Potdevin was meant to restore a more professional aura to Lululemon, but now the company is dealing with fresh upheaval. Though vague, its announcement Monday suggests that his dealings with employees became an issue.
"Lululemon expects all employees to exemplify the highest levels of integrity and respect for one another," the Vancouver-based company said in a statement Monday. "Mr. Potdevin fell short of these standards of conduct."
The company's shares fell as much as 3.2 percent, the most intraday in almost four months, to $74.90 on Tuesday. They had slipped 1.5 percent this year through Monday's close, but they gained 21 percent in 2017.
The misconduct didn't have anything to do with the company's finances or operations, people familiar with the situation said. It spanned a range of incidents and involved multiple individuals, according to the people, who asked not to be identified because Lululemon is keeping the matter private.
Lululemon didn't provide detail because it wanted to protect the privacy of those involved, they said.
Monday's announcement after the market's close sent the shares down in late trading, dealing a blow to a company that had been on the upswing. Lululemon delivered a rosy earnings outlook in December, giving investors faith that the company had sidestepped a feared downturn in athletic-apparel sales.
Lump-Sum Payment
Potdevin isn't walking away empty-handed. Lululemon will make a lump-sum cash payment of $3.35 million as part of his exit. He'll also receive $1.65 million over 18 months in equal monthly installments -- beginning 60 days after his departure.
Chairman Glenn Murphy, who previously served as CEO of Gap Inc., is now tasked with steering the company through the turbulence. He already was head of the board, but now will add executive duties to the role, Lululemon said.
Three senior leaders also will take on more responsibilities. Celeste Burgoyne, executive vice president of the Americas, will help manage the sales channel and brand marketing. Chief Operating Officer Stuart Haselden will oversee finances, supply chain, employees and technology. And Sun Choe, senior vice president of merchandising, will work on product development, design and innovation.
Toms Shoes
In his public appearances, Potdevin advocated for meditation and living "mindfully" -- with a higher consciousness -- an attitude that fit with Lululemon's yoga heritage. A European with French and Swiss roots, he previously was president of Toms Shoes Inc., a shoe brand best known for giving a pair to a needy child for every one sold. Before that, Potdevin was CEO of Burton Snowboards.
Seeking to reassure investors after its split with Potdevin, Lululemon reaffirmed its forecast. It expects to post profit of $1.25 to $1.27 a share for the fourth quarter, excluding some items, and revenue of as much as $915 million. Comparable sales are projected to increase in the high single digits. The company typically releases fourth-quarter results in March.
Regardless of the circumstances, Monday's shake-up brings another distraction to Lululemon, according to Jefferies LLC analyst Randal Konik. The company also lost its Creative Director Lee Holman in November, he notes.
"We are wary of the current level of management turnover," Konik said. "It could lead to instability at a time when the company is looking to drive its next leg of growth."
— With assistance by Lisa Wolfson
(
Updates share trading in sixth paragraph.
)
Before it's here, it's on the Bloomberg Terminal.
LEARN MORE