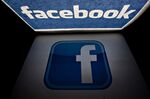 Facebook, can we talk about your spending?
The company is going on a spree. Facebook has said its costs for web video programs, people to patrol the social network for abusive posts, its virtual reality project and other investments will swell by 45 percent to 60 percent this year. Investors are mostly fine with this. The company has justified the spending on its top priorities, including guarding against Russia-backed misinformation campaigns or other abuses.
But there is another category of costs that is likely to increase at a much faster clip, and Facebook hasn't detailed why. The company last week repeated a forecast that its capital costs -- spending on fleets of computer equipment, new corporate buildings and other physical assets -- will more than double, from $6.7 billion in 2017 to an estimated $14 billion to $15 billion in 2018.
Even when Facebook was growing quickly into a titan, its capital costs never doubled from one year to the next. Facebook executives have said the significantly higher capital spending in 2018 will be for computing networks and other investments to "support growth and improve our products," as the company's top finance executive said in November. 
That's not much of an explanation for what is both an astounding jump in capital spending and a stunning overall sum. Companies with $14 billion or more in yearly capital expenditures tend to be those that make complex physical products such as computer chips or cars. 
Facebook rearranges pixels; it doesn't drill for oil and gas as Exxon Mobil does. And yet Exxon's capital spending is on par with Facebook's 2018 forecast, at about $14.8 billion in the 12 months ended Sept. 30, according to Bloomberg data. Insert the cliche about how "data is the new oil."
Investors have not publicly pressed Facebook to explain how it will spend its 2018 capital budget. They are fixated on far more pressing issues, including the company's effort to weed out harmful behavior on the social network, ward off potential regulatory crackdowns and expand important businesses including internet video and Instagram, the Facebook-owned app. As long as Facebook's financials continue to be healthy, stockholders are likely to remain unconcerned about a big step up in capital costs. 
But there is a precedent that should worry Facebook a little. A few years ago, Google's capital spending was growing significantly. It more than doubled in 2013 and surged 49 percent in 2014. To investors, the capital spending increases were among the evidence that Google had become financially undisciplined. The company's stock price declined 5 percent for the year.
Then Google hired a new chief financial officer and imposed a stricter watch on its wallet. Capex declined in 2015 and has increased more slowly ever since. Google's commitment to spending discipline was among the reasons investors regained confidence in it. 
If Facebook's 2018 capital costs match the company's forecast, it may pass Google parent company Alphabet in capital spending, even though the web search giant's revenue is twice as large. Facebook may also join the ranks of Google, Intel and Apple of the U.S. technology industry's biggest capex spenders. (South Korea's sprawling electronics giant Samsung has by far the largest capex spending of global tech companies.) 
The rising capex tab for Facebook is another reminder that the world's web habits require costly and complex underlying infrastructure of internet pipes, computers, electricity and people to keep it all humming. 
It's also possible Facebook has some secrets up its sleeve that will require a big step up in capital costs. Bloomberg News has reported that Facebook is working on more consumer hardware, including a home videoconferencing device, and those ambitions require new kinds of spending.
Facebook's capital binge hasn't attracted much attention from investors. But if the company's revenue grows more slowly than investors expect, those costs may suddenly look worrisome. 
Before it's here, it's on the Bloomberg Terminal.
LEARN MORE