Super Bowl Delivers Smallest Television Audience Since 2009
By
Ratings for Eagles' first win down 7.1% from year ago

Even with streaming viewers, ratings below 2010 number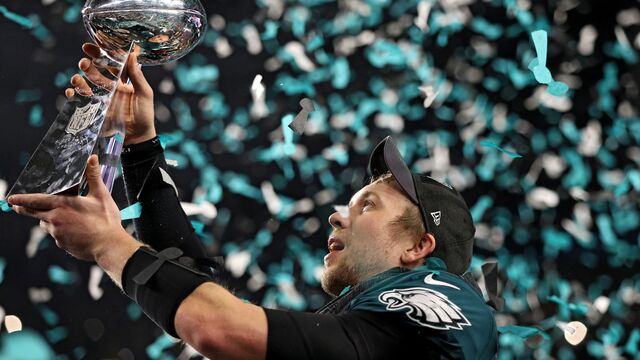 A high-scoring Super Bowl that came down to a last-second Hail Mary pass failed to reverse the National Football League's slumping TV audience, with the lowest ratings in nine years.
The Sunday night championship, in which the Philadelphia Eagles toppled the New England Patriots 41-33, attracted 103.4 million viewers on NBC, according to the network, down 7.1 percent from last year. Including online viewing, the audience was 106 million, a drop of 6.8 percent from 2017 and still not as big as the turnout for the 2010 Super Bowl.
The decline marked the third straight drop in viewership for the game, even though it's almost certain to be the most-watched show of the year. The record for a Super Bowl audience was in 2015, when 114.4 million TV viewers tuned in.
The waning audience for the biggest game of the year puts more pressure on the National Football League and its broadcasting partners, which saw a 9.7 percent decline in viewership in the regular season after an 8 percent drop the prior year. Viewers have more options for entertainment than ever before, from Netflix to Snapchat, and ratings have been down for traditional television across the board.
Advertisers including Papa John's International Inc. have attributed the NFL ratings slump to player protests during the national anthem, while others have pointed to head injuries, lengthy play reviews by officials, frequent commercial breaks, and outspoken quarterback Colin Kaepernick's exclusion from the league.
Even with fewer viewers, marketers are willing to pay more every year because the game is one of the rare events to attract such a large audience. Advertisers spent $414 million during the big game -- the second most in history behind only last year's Super Bowl, according to estimates by Kantar Media. When pre- and post-game ads are included, the tally will easily surpass $500 million, the researcher said.
There were more than 49 minutes of commercials this year, the third-highest total on record. Anheuser-Busch InBev and Fiat Chrysler Automobiles bought the most ad time, though the latter's Dodge Ram unit sparked controversy by airing a truck commercial with a recording of a Martin Luther King Jr. sermon from 1968.
This year's game was close throughout, with Eagles quarterback Nick Foles leading his team to its first Super Bowl victory and Patriots Tom Brady heaving a last-second pass that fell incomplete. A ratings point equals 1 percent of U.S. TV households, which total more than 116 million.
The Super Bowl draws TV's biggest live audience of the year, and advertisers paid more than $5 million for 30 second commercials.
Before it's here, it's on the Bloomberg Terminal.
LEARN MORE