cryptocurrencies
Draghi Says ECB Can't Yet Declare Victory in Inflation Fight
By and
Euro-area economy is expanding significantly above potential

ECB president speaks at European Parliament in Strasbourg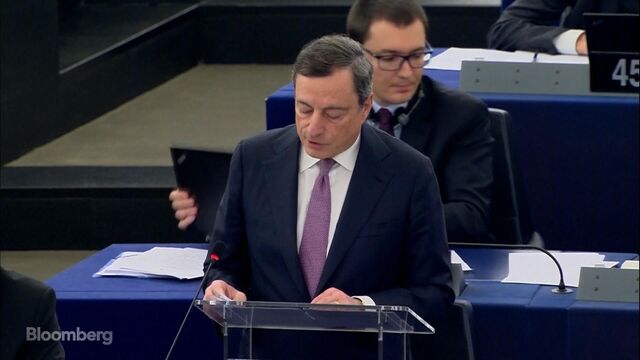 Mario Draghi said that the European Central Bank still can't claim success in its struggle to restore inflation, and defended its policies from complaints that they widen inequalities.
"While our confidence that inflation will converge toward our aim of below, but close to, 2 percent has strengthened, we cannot yet declare victory on this front," the ECB president said at European Parliament hearing in Strasbourg on Monday. "Monetary policy will evolve in a fully data-dependent and time-consistent manner."
With the euro-area economy expanding at the fastest pace in a decade, unemployment falling and nascent signs of price pressure evident, policy makers are considering the smoothest way out of their 2.6 trillion-euro ($3.2 trillion) asset-purchase program. Still, the officials want to move as cautiously as possible amid concerns including exchange-rate volatility, which Draghi reiterated requires monitoring.
Draghi came to the European Parliament to debate the ECB's 2016 annual report, but lawmakers opted to quiz him on a wide range of subjects, from Brexit to the Hungarian central bank's alleged financing of the government.
Read more: Draghi Says ECB Needs to Prepare for Possible Cliff-Edge Brexit
Legislators also addressed the succession of Vice President Vitor Constancio in June, on which Parliament members get to cast a non-binding vote on nominees. Ireland has put forward central bank governor Philip Lane, while Spain, which has long claimed the seat it lost six years ago, hasn't yet named a candidate.
Everyone Wins
Draghi largely sidestepped those issues, focusing his closing response on defending the ECB's bond-buying program from the accusation that it favors Southern European countries such as Italy at the expense of German savers. He said "there isn't one specific country that has benefited most."
Even the Bundesbank, an institution that has been critical of the program since its inception, backs that view.
"There are no systematic or political preference for individual countries or groups of countries," board member Joachim Wuermeling said in interview with Boersen-Zeitung. "Neither the rules on purchases nor the decision-making allow for discretionary margin to maneuver."
In his testimony, Draghi acknowledged that QE increases inequality in the short run, but said those negative effects are vastly outweighed by the windfall that economic expansion and falling unemployment bring to society as a whole. The euro-area economy added 7.5 million jobs since the height of the crisis, which he says are partly a consequence of the ECB's policies.
Governing Council members expect the bond-buying program will be wound down with a short taper after September, and some officials want to give investors a clearer signal on how long interest rates will stay at record lows.

On the day that bitcoin tumbled as much as 18 percent against the dollar, Draghi also repeated that cryptocurrencies are "unregulated" and "very risky assets," and said the ECB's bank-oversight arm will examine the exposure of lenders.
Read more: Draghi Says ECB Studying Digital Currency Risks for Banks
"We are not observing a systemically relevant holding of digital currencies" by banks, he said. "However, recent developments like the listing of bitcoin futures contracts by U.S. exchanges could lead also European banks to hold positions in bitcoin, and therefore we certainly look at that."
Draghi's warning was echoed by Bank for International Settlements General Manager Agustin Carstens, who devoted the first major public speech in this role to digital currencies and the threat they pose to the established financial system.
"Bitcoin is not functional as a means of payment, but it relies on the oxygen provided by the connection to standard means of payments and trading apps that link users to conventional bank accounts," Carstens said in Frankfurt on Tuesday. "If authorities do not act pre-emptively, cryptocurrencies could become more interconnected with the main financial system and become a threat."
Reform Needs
While lawmakers largely skirted around reform proposals aimed at strengthening the euro area, Draghi repeated his call to capitalize on the positive economic momentum to make the 19-nation region more resilient to future shocks, including by finishing work on bank regulation, a system for closing failed banks and euro-area deposit insurance.
"It is important to complete the architecture of the banking union by putting in place the agreed common backstop to the Single Resolution Fund," he said. "A fully fledged European deposit-insurance scheme is an indispensable counterpart to the single currency as everyone in the euro area should be able to have confidence that the money in their bank account enjoys the same level of protection."
— With assistance by Lucy Meakin, Mark Deen, Piotr Skolimowski, Carolynn Look, Zoe Schneeweiss, and Catherine Bosley
(
Updates with comments from Wuermeling, Carstens starting in seventh paragraph.
)
Before it's here, it's on the Bloomberg Terminal.
LEARN MORE