Anglo Sees Momentum on S. Africa Policy: Africa Mining Update
Thomas Biesheuvel, Felix Njini and Tom Wilson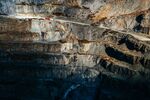 Mining executives, investors and government ministers are meeting in drought-hit Cape Town for the African Mining Indaba, the continent's biggest gathering of one of its most vital industries.
Recent multiyear highs for many commodities have the world's biggest miners swimming in cash and new demand from electric vehicles mean once-overlooked metals like lithium and cobalt are grabbing the spotlight. But it's not all blue skies, as the industry grapples with regulatory changes and uncertainty in countries including the Democratic Republic of Congo and Tanzania, as well as host South Africa.
Here are the latest developments, updated throughout the day. (Time-stamps are local time in Cape Town.)
Anglo Sees Momentum on South African Mining Policy (4:17p.m.)
Leadership changes in the ruling African National Congress make it more likely that mining companies and the government can negotiate an agreement on mining policy, said Norman Mbazima, Anglo American Plc's deputy chairman for South Africa. "We have got some momentum that has started happening, we are hoping that momentum will be maintained," he said in an interview on the sidelines of the conference.
Read more: Anglo Takes Down South Africa Sale Sign and May Even Buy
Cyril Ramaphosa's "deep knowledge" of the mining sector may help in finding a solution. But that doesn't mean he'll be a pushover, said Mbazima. "I think a few people are mistaking him with a president who is too supportive of investors," he said. "We think he will be fair and knowledgeable."
Sprott's Grosskopf Sees Gold Equities Catching Up (3p.m.)
Gold equities are undervalued and "have kind of been left behind," Sprott Inc. CEO Peter Grosskopf said. "I think that's the leg that will follow this year," he said of generalist money coming back into specialist gold funds. Grosskopf also said he expects that the digitization of physical and allocated gold storage will be the story of 2018, and will result in a "more useful asset class."
South Africa Key to Anglo, Agarwal Says (12:14p.m.)
South Africa is important for Anglo American Plc, according to its biggest shareholder Anil Agarwal, but once again he refused to give any clues on his ambitions for the company. The billionaire said Anglo could perform better. He repeated his stance that he'd invested in a personal capacity and was a supportive shareholder and not an activist. He also said he wanted to remain as an investor.
Hambro Warns on 'Tourists' (12:10p.m.)
Blackrock Inc.'s Evy Hambro warned that mining's recovery comes with some risks, especially as what he called "tourist" investors return to the sector. Such investors could push too hard for growth, forcing the sector to repeat past mistakes by focusing on volume over value.
Hambro wants the industry to remain disciplined and patient investors who stuck with mining stocks during the past downturn should now be rewarded with dividends. He also said it's inevitable that some cost inflation will come back into the sector.
Mining Culture Needs to Be 'Less Alpha Male' (11:18a.m.)
The mining industry's culture needs to become "less alpha male" and has a long way to go to create a workplace that includes women, said Mike Fraser, president and chief operating officer for Africa at Perth-based South32 Ltd. From safety gear to facilities, the sector often doesn't cater enough for women, he said. "Those kinds of conversations, whilst they are now emerging to the surface, are probably 20, 30, 40 years too late and I would say there's still a significant amount of work we have to do."
Ownership of South32's South African energy-coal business will go beyond the government's minimum requirements on black empowerment, Fraser said.
Rio's Mines of the Future (10:45 a.m.)
Here's a glimpse into how the world's number two miner sees the future. Rio Tinto Group's Bold Baatar, head of energy and minerals, said the company will be competing with the likes of Facebook Inc. and Google for workers as mining automation increases. Currently, two-thirds of Rio's engineers are miners, but within a decade that number will be halved, he said.
He also echoed a popular point from the industry: governments often have too high expectations for the money to be made from mines and don't factor in the costs.
Anglo Hopes for Reset Button in S. Africa (10:33a.m.)
Norman Mbazima, deputy chairman of Anglo American's South African unit, said he's hopeful that, with the improvement in the political environment since December, "we can now find the 'reset' button and get back around the table." December, of course, refers to the election of Cyril Ramaphosa as leader of the ruling African National Congress. Mbazima said he's "very encouraged" about Ramaphosa's comments in Davos that urgent action is needed to resolve the impasse over South Africa's mining charter.
South African Minister Ignores the Elephant in the Room (10a.m.)
South African Minerals Minister Mosebenzi Zwane's speech spanned the industry's contribution to South Africa's economy, efforts to boost geomapping in the country and the importance of exploration. What he failed to address was the acrimonious dispute between his department and mining companies in South Africa over the controversial mining charter introduced in June last year.
Zwane on Rio Investment? (10a.m.)
The minister also mentioned that he'd met Rio Tinto Group since arriving in Cape Town and casually dropped a reference to a planned $450 million investment by the world's second-largest mining company to expand operations. Rio hasn't announced anything like that but Zwane might have been referring to the Zulti South minerals sands project in Richards Bay. The company's board is due to make a decision on the Zulti South investment this year, according to a Rio spokesman.
Before it's here, it's on the Bloomberg Terminal.
LEARN MORE