Economics
Trump's Trade Tariffs: You Ain't Seen Nothing Yet
Solar panels and washing machines were just the start.
By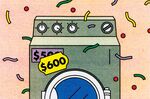 The Trump administration is working on trade measures that will make the recent tariffs on solar panels and washing machines look minor by comparison. At best, these potential measures could protect the U.S. from unfair foreign competition. At worst, they could ignite trade wars that end up harming everyone.
China in particular is in Trump's crosshairs and might well fight back against any effort to restrict its exports. "I have been told by certain officials that yes, definitely, there will be retaliation" from China if the U.S. slaps new tariffs on Chinese-made products, William Zarit, chairman of the American Chamber of Commerce in China, said at a briefing in Beijing on Jan. 30.
In his State of the Union address, Trump said, "The era of economic surrender is over. From now on, we expect trading relationships to be fair and to be reciprocal." He has asserted in the past that China condones intellectual property theft and coerces foreign companies into transferring crucial technology to Chinese joint-venture partners. The administration is also discussing the possibility of invoking national security as a justification for imposing tariffs on foreign-made steel and aluminum, arguing that U.S. industry and the military can't risk being overly dependent on foreign sources for the two industrial metals.
In another developing case, China has sued both the U.S. and the European Union at the World Trade Organization, claiming that it should have been treated as a market economy starting in December 2016, 15 years after its accession to the WTO. The designation, which the U.S. and EU haven't accepted, would require countries to accept China's own data in determining the size of duties on Chinese companies for "dumping" products below cost. The U.S. case is on hold while China goes after the EU. "It is clearly the most important case before the WTO right now," says Timothy Brightbill, a partner in the Washington law firm of Wiley Rein LLP.
Any one of these pending cases could roil the international trading system more than the U.S. tariffs imposed on Jan. 22, says William Reinsch, a senior adviser at the Center for Strategic & International Studies in Washington.
The Trump administration slapped import duties starting as high as 30 percent on solar panels and 50 percent on washing machines under a provision of international trade rules that allows countries to "safeguard" domestic industries that suffer an import surge. Such tariffs must decline each year and last no more than four years. The U.S. doesn't need to prove that the foreign competition was unfair, and the tariffs aren't country-specific. South Korean washing machine makers and Chinese solar panel manufacturers, which will be affected most, are likely to lose if they appeal to the WTO because "countries taking actions are given a lot of discretion," predicts Jeffrey Schott, a senior fellow at the Peterson Institute for International Economics.
The WTO allows countries to restrict imported products on national security grounds, but major trading nations have long refrained from invoking the provision for fear of collapsing the WTO entirely. The problem: If one country does it, others could quickly follow suit. Sweden came under intense pressure when it invoked national security to limit imports of army boots in the 1970s, says Schott. "The Trump administration needs to put forward a rationale" if it's going to make a national security claim, says Stephen Kho, a partner at the law firm of Akin Gump Strauss Hauer & Feld LLP. "I'd be curious to see what it is."
Then again, Trump is no fan of the WTO. His administration has blocked the appointment of replacements to its appellate body while complaining that it's "set up for the benefit of taking advantage of the United States." The question is whether the dealer-in-chief can win concessions for the U.S. without wrecking the whole system. —With Bryce Baschuk
BOTTOM LINE -
While the Trump administration can make tariffs on washing machines and solar panels stick, new measures it's contemplating could provoke a backlash.
Before it's here, it's on the Bloomberg Terminal.
LEARN MORE