politics
Treasury Warns of Upheaval If U.S. Sanctions Russian Debt
By and
Investors interpret as signal Trump won't target Russia bonds

Treasury official says restricting bonds not ruled out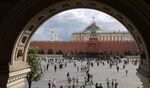 The U.S. Treasury Department warned that Russia's sovereign debt market is too important to sanction without risking global financial turmoil, signaling the Trump administration is wary of targeting it for penalties.
A Treasury report obtained by Bloomberg concluded that expanding sanctions to new Russian sovereign debt and derivatives could destabilize markets and spread beyond Russia to have "negative spillover effects into global financial markets and businesses."
Investors interpreted the findings as indicating that the U.S. has taken debt market penalties off the table despite pressure from Congress for additional sanctions on Russia for its meddling in the 2016 presidential election.
"The bond market has concluded that if restrictions would harm American and European investors, sanctions won't be implemented," said Maxim Cherenov, head of fixed income trading at Asian Pacific Pank PJSC in Moscow. "It's good news."
But Treasury undersecretary for international affairs David Malpass said the department hasn't ruled out sanctioning Russian debt.
"Treasury would consider all options," Malpass said in an emailed reply to questions. "The report is an analysis of possible effects, not in any way a roadmap for or against sanctions. We don't telegraph our future actions."
Undisclosed Report
Congress ordered the report on the impact of potential sanctions on Russian sovereign debt in legislation passed in August. Though the report was submitted to Congress on Monday, its findings hadn't previously been disclosed.
The report was another instance in which the Trump administration seemed to take a softer line on Russia under the new law. The administration refused to add new sanctions on Russia's defense industry and issued a list of 'oligarchs' that was less targeted than expected. President Vladimir Putin said Tuesday he'd decided not to proceed for the moment with planned retaliation for the U.S. move.

Russia's local-currency bonds due in January 2028 climbed for a fifth day, lowering the yield two basis points to 7.20 percent. The ruble pared declines, trading down 0.8 percent against the dollar at 56.3525 as of 5:38 p.m. in Moscow. Russian assets climbed this week as investors speculated the Treasury wouldn't recommend sanctions on the country's sovereign debt.
"It's very unlikely we'll see harsh measures against Russian sovereign debt," Yury Tulinov, an analyst at Rosbank in Moscow, said by email. "At least, in the foreseeable future."
Foreign investors hold more than a third of Russia's local and international sovereign bonds. BlackRock Inc., Stone Harbor Investment Partners and JPMorgan Chase & Co. are the three biggest holders of ruble debt with investments totaling about $4.9 billion, according to data compiled by Bloomberg.
The report says sanctions against the sovereign debt market would put downward pressure on Russian economic growth, increase strain on the banking sector and "lead to Russian retaliation against U.S. interests."
"Given the size of Russia's economy, its interconnectedness and prevalence in global asset markets, and the likely over-compliance by global firms to U.S. sanctions, the magnitude and scope of consequences from expanding sanctions to sovereign debt and derivatives is uncertain and the effects could be borne by both the Russian Federation and U.S. investors and businesses," the report finds.
Asset Managers
The report also warns that "expanding sanctions could hinder the competitiveness of large U.S. asset managers."
The report -- and the prospect of new sanctions -- had cast a shadow on Russian debt markets since Congress passed the law requiring a series of sanctions-related studies, including a separate list identifying Russian billionaires and officials close to Putin.
Treasury Secretary Steven Mnuchin told senators at a hearing on Tuesday that the reports would be followed by fresh sanctions on Russia as punishment for its interference in the 2016 presidential election.
Mnuchin has faced criticism over how his department handled the billionaires list, which contained the names of 210 people. The Treasury confirmed that it used a Forbes list of wealthy Russians, along with other public sources, to compile it. Democrats said the reports should have been accompanied by new sanctions.
Investor Relief
Russian investors expressed relief on Tuesday when the Treasury didn't initially release details of the report on Russian government debt. The nation's borrowing costs sank as investors took the lack of detail on the debt report and no announcement of penalties for anyone on the so-called oligarchs list as a sign that the Trump administration wasn't inclined toward tougher sanctions.
The credit rating company Moody's Investors Service said that it would consider raising Russia to investment grade even if the nation is burdened with the kind of penalties that have curbed Venezuela's ability to finance its debts. Moody's put Russia on positive outlook last week, setting it on course for a possible rise out of junk status in the next 12 to 18 months.
The U.S. law required that the report on potential sovereign debt sanctions be unclassified, but allowed a "classified annex." It was submitted to Congress on Monday but no portion was made public. Bloomberg obtained the unclassified report, though not the classified annex to the study.
A Treasury spokesman on Thursday declined to comment on why the department didn't make the unclassified report public .
— With assistance by Olga Voitova, Natasha Doff, and Alexander Nicholson
(
Updates with comments from Treasury official in fifth paragraph.
)
Before it's here, it's on the Bloomberg Terminal.
LEARN MORE