NFL Advertisers Pay Record-Breaking Prices Even as Ratings Drop
By
Marketers stick around because football still draws big crowds

'At some point there's got to be a reckoning,' researcher says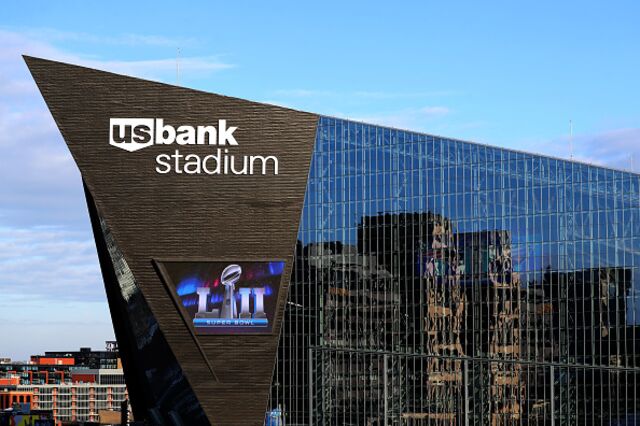 The NFL has lost millions of viewers in recent years. Advertisers are sticking around anyway.
It's not that football sponsors are more loyal, they're trapped. In a fractured television landscape, National Football League games -- and especially the Super Bowl -- are still the best way to reach a massive live audience, even if it is shrinking.
"Where else are we going to go?" asked Andrew Donchin, chief investment officer at Dentsu Aegis Network, an ad buyer whose clients include the sandwich chain Subway and drugmaker Pfizer Inc. The NFL is "still the tallest midget in the room."
That creates a Catch-22 for advertising buyers and the companies they represent: Even with viewership declining, marketers can't afford to turn their backs on America's favorite televised sport because they have few other options for reaching big live audiences. Of the 50 most-watched programs on television in 2017, NFL games accounted for 39, compared with 42 two years earlier, according to Nielsen data.
Their demand for air time means the TV networks like NBC, CBS and Fox are able to charge marketers higher and higher prices for TV spots, peaking with Sunday's Super Bowl contest pitting the New England Patriots against the Philadelphia Eagles before an expected TV audience of more than 110 million.
NFL ratings dipped 8 percent in 2016, partly because the presidential election that year was just as entertaining to some football fans. Even so, the cost of a 30-second NFL ad rose 1.2 percent to $505,000 in 2017, according to Standard Media Index, which tracks ad prices. In the 2017 season, ratings tumbled an additional 10 percent.

The gap for the big championship game is even more stark. The audience for the Super Bowl has declined about 3 percent since 2015, while ad prices are up about 15 percent since then to more than $5 million for a single spot this year, according to Kantar Media.
One factor aiding football broadcasters is that marketers still see TV as a safer environment than the internet, even if more and more viewers are trading in scheduled programming for YouTube, said James Fennessy, chief executive officer of Standard Media Index.
"At some point there's got to be a reckoning," Fennessy said in an interview, though he adds, "People were saying that five or six years ago."
This time around, there are more ominous signs of trouble. While advertising rates rose, total ad spending during regular NFL games declined 1.2 percent in the 2017 season, following two years of increases. Lower audience ratings meant networks such as CBS and Fox had to offer more "make goods," free air time that marketers get when shows don't deliver the viewers they're promised.
Dave Campanelli, an ad buyer at Horizon Media, whose clients include insurer Geico Corp. and wireless carrier Sprint Corp., says the ratings put networks in an "even weaker position" that advertisers will try to exploit when they negotiate rates for next season.
"Until the past two seasons, NFL ratings trends had been fairly benign," said Michael Nathanson, an analyst at MoffettNathanson LLC. "However, it's evident that the tide has turned. Last year's declines no longer look like anomalies."
Before it's here, it's on the Bloomberg Terminal.
LEARN MORE