Meanwhile in Corporate Earnings, Everything Is Rosy
By
Percentage of U.S. companies beating estimate hits 7-year high

Earnings growth set to be the strongest since late 2011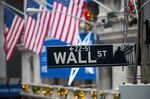 You can't blame company fundamentals for the global equity selloff.
About half way into the earnings season, a whopping 81 percent of U.S. companies have managed to beat analyst expectations -- the highest level in seven years -- with eight of the 11 major sectors reporting double-digit profit growth, according to strategists at JPMorgan Chase & Co.
The picture is even rosier when looking at top lines: 78 percent of companies beat revenue estimates, the best score since JPMorgan started to track the data in 2009, helped in part by the weakening dollar and a recovery in commodity prices.
And the outlook looks impressive too: a record 75 percent of companies have raised their profit guidance for the year during the earnings season, partly to reflect the impact of the lowered corporate tax rate.
The positive earnings trend isn't limited to U.S. companies. Last month, the number of upgrades for global profit estimates outnumbered downgrades by the biggest margin since Citigroup Inc. began compiling the data 18 years ago.
The steady pace of earnings upgrades combined with this week's pull-back in stocks means that valuation levels are now a bit less frothy. The S&P 500 trades at 17.9 times expected earnings in the next 12 months, down from the 18.5 times seen late last year.
Before it's here, it's on the Bloomberg Terminal.
LEARN MORE