GOP Plans to Put Tax Cuts at Forefront of 2018 Campaign
By and
Party leaders seeking to head off Democratic gains in House

November elections will determine control of House and Senate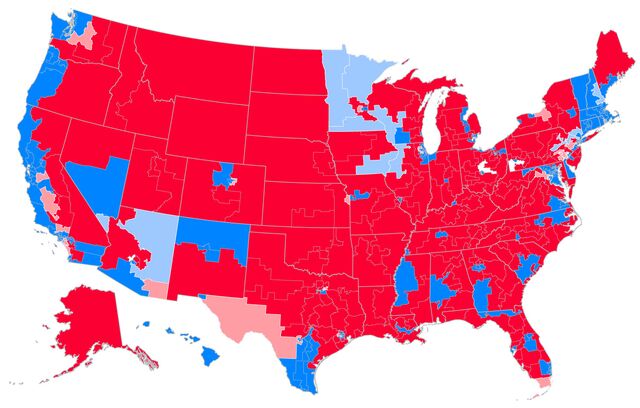 Congressional Republicans spent their two-day retreat in West Virginia hashing out their priorities for the rest of the year, and No. 1 on the list was holding on to their majorities in the House and Senate.
With President Donald Trump's stubbornly low approval ratings and historical trends suggesting they'll lose seats in the November mid-term elections, party leaders told lawmakers their salvation lies in hammering on the message that the tax cuts passed at the end of last year are putting more money in voters' pockets.
"The tax bill is part of a bigger theme that we're going to call The Great American comeback," said Representative Steve Stivers of Ohio, is chairman of the National Republican Congressional Committee, the campaign arm of the House GOP. "If we stay focused on selling the tax reform package, I think we're going to hold the House and things are going to be OK for us."
Democrats are well positioned to bring one-party government in Washington to a halt after November, when all 435 House seats and one-third of Senate seats are on the ballot. Even if only one chamber flips to Democratic control, Trump's agenda will grind to a halt and his administration likely would face a slew of new investigations if Democrats gain control of oversight committees.
Republican Departures
In one sign of Republican concern about the potential for major Democratic gains, 41 Republicans in the House have announced plans to retire, seek other office or have resigned during this Congress. That includes nine committee chairmen. By comparison, 17 Democrats are leaving.
"We're talking about this," said Mark Walker, a North Carolina Republican who chairs the 170-member Republican Study Committee. "We're not pretending that this will go against the trend to keep the majority in the house."
Along with budget negotiations and raising the debt ceiling, immigration is the most contentious issue facing the lawmakers when they return to Washington next week. Yet only one breakout session addressed immigration, and there was no policy path presented by GOP leaders. Democrats and Republicans have struggled for weeks to find a compromise.
Republicans pointed to a recent poll suggesting their prospects in November elections aren't as dim as they feared.
Polling Numbers
A Jan. 28-30 Monmouth University poll found that 47 percent of adult Americans surveyed said they would vote for or are leaning toward the Democrat in their House districts, compared to 45 percent saying they favored the Republican. While that's a two percentage point advantage for Democrats, it's a decline from the 15-point advantage in the generic congressional ballot in Monmouth's December poll. However two other polls conducted over the same period found a bigger advantage for Democrats.
On taxes, the Monmouth poll found that 44 percent of adult Americans surveyed approve of the GOP tax bill, and 44 percent disapproved. Yet in December, just 26 percent approved while 47 percent disapproved. Stivers said the upward trend should continue as the tax cuts begin to affect paychecks in coming weeks.
Democrats had sought to describe the tax cuts as a boon to the rich and companies, while the GOP pointed to benefits for many middle-class families.
In what amounted to a pep talk, Trump told the lawmakers on Thursday that passing the tax cuts "was like putting it all in a box and wrapping it with a beautiful ribbon."
Some Republicans said they want to extend the tax cuts, especially if that puts Democrats in Republican-leaning districts on the spot.
Mark Meadows, a North Carolina Republican who is chairman of the conservative House Freedom Caucus, said he and Republican Representative Rodney Davis of Illinois this week introduced a measure that would make the individual tax cuts in December's tax bill permanent, instead of ending in a decade.
"We would like to see a vote on that soon," he said, adding that Ryan has committed to a floor vote. "I believe we need to do it sooner than later. It potentially would be a very tough vote for Democrats, who have said the tax cuts for individuals are temporary. We're going to give them a chance to make them permanent."
Meadows said Republicans see some chance to counter the historical midterm trends for the party in power. The growing economy and rising stock prices are the best thing the party has going for it, he said.
"If the economy is doing well and people are feeling good about their jobs and the fact that they're getting raises, I become less concerned" about Democrats sweeping into office, he said. "It becomes less personal in terms about Washington, D.C., and more personal about what's happening at home."
Before it's here, it's on the Bloomberg Terminal.
LEARN MORE