Exxon, Chevron Disappoint by Missing Out on Industry Rebound
By
Oil, refining rallies pass them by as divisions underperform

Production from crude, gas wells fail to meet expectations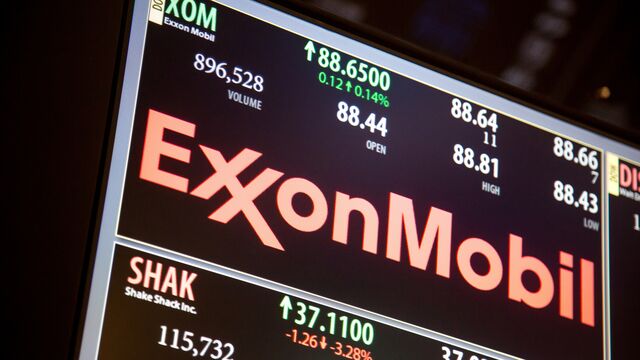 Exxon Mobil Corp. and Chevron Corp., failing to capitalize on a more than 50 percent rise in oil prices since June, spurred the wrath of investors by missing fourth-quarter estimates on both earnings and output.
Exxon took the worst hit, plunging 5.8 percent to $83.86 in New York trading at 1:00 p.m., making them the second-worst performer in the S&P 500. Earlier, the shares fell to $83.87, the company's biggest intraday decline for two years. Chevron dropped 4.2 percent.
Results from the two integrated companies followed a day-earlier report by ConocoPhillips that included a dividend boost, share buybacks, and a $400 million Alaska expansion. The difference: Conoco is solely focused on drilling; Exxon and Chevron's refineries reported lower than expected returns at a time of fat gasoline and diesel margins.
"One word: disappointing," is how Brian Youngberg, a St. Louis-based analyst at Edward Jones & co., described the results. "Chevron was close on production but Exxon was a significant miss," he said. "The company continues to be challenged on that side."
Exxon fell 15 cents short of fourth-quarter earnings estimates by analysts, while Chevron was 55 cents shy. Royal Dutch Shell Plc, also an integrated explorer, also saw its shares fall on Thursday when it reported a weaker-than-expected outcome from refineries.

While Exxon has long held that choosing to produce lower-cost oil is more important than the volume of output, the latter remains a key metric for investors.
"I certainly acknowledge the drop that we've seen in upstream business and the return on capital employed," Jeff Woodbury, vice president of investor relations at Exxon, said on a call with analysts. Discoveries in Guyana and acquisitions in Mozambique and Papua New Guinea will boost returns in the future, he said.
Exxon will lay out a more detailed growth plan at its analyst day on March 7, Woodbury said. Meanwhile,. the company said it has no plans to resume a share buyback program to return capital to shareholders that was ended in early 2016.
Exxon's share-price drop "highlights the market's expectations on the potential for a ramp-up in share buybacks due to a higher oil price," Biraj Borkhataria, a London-based analyst at RBC Capital Markets, wrote in a today.
Chevron's production of oil and gas equated to 2.74 million barrels, less than the 2.802 million analysts expected. The company, though, said it found enough untapped fields to replace 155 percent of the crude and gas it pumped last year, the highest reserves replacement since 2011.
Chevron's downstream performance was hurt by one-off factors such as hurricanes, CEO Mike Wirth said on a call with analysts. "We don't have structural issues in the downstream at all."
Chevron will grow production between 4 percent and 7 percent next year and cash flow is improving, Wirth said.
"All the fundamental drivers of cash flow are moving in the right direction," he said, while cautioning that it's "premature" to talk about share buybacks. Chevron increased its dividend this week.
Exxon's per-share net income, excluding a one-time gain from U.S. tax code changes, was 88 cents, well short of the $1.03 average of 20 estimates from analysts in a Bloomberg survey. Chevron's per-share earnings, excluding one-time items, amounted to 67 cents, far below the $1.22 average of 19 estimates from analysts in a Bloomberg survey.
Future plans
The fourth-quarter results hit as both Exxon Chief Executive Officer Darren Woods and Chevron's CEO Mike Wirth, who stepped into the role on Thursday after being named CEO-in-waiting in September, are gearing up for production growth.
In Chevron's case, the company this year is expected to start reaping the rewards after years of investment into expensive mega projects from Australia to Kazakhstan. Production will rise between 4 percent and 7 percent in 2018 without asset sales, Wirth said.
Exxon's potential growth is not as immediate. Woods signed off on $10 billion of acquisitions in the U.S., Brazil and Mozambique in 2017, and is forging ahead with a major exploration venture in Guyana, off the coast of South America. Yet these projects probably won't start producing until the 2020s, according to estimates by Macquarie Capital.
Before it's here, it's on the Bloomberg Terminal.
LEARN MORE