markets
Criticized by South Africa's Treasury, Short-Seller Defends Work
By
Viceroy boss says firm consulted widely for report on Capitec

Its report attracted criticism from Treasury, market analysts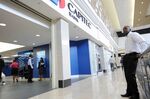 Short-seller Viceroy Research said South Africa's National Treasury may have been too quick to jump to conclusions when it called for an international investigation into the group for its allegations against Capitec Bank Holdings Ltd.
A Viceroy report on Tuesday that said Capitec faced significant losses because it concealed impairments to its loan book, sending the bank's shares tumbling -- and profiting Viceroy. The Treasury reacted by saying that regulators should check whether Viceroy "transgressed any of their market conduct and market abuse laws that aim to protect investors."
Now Viceroy has responded to the criticism.
"It's ironic that they would prefer to take the company's stance without checking if the information is accurate," Viceroy founder Fraser Perring said in a phone interview from New York on Friday.
Perring repeated a call for South Africa's authorities to investigate Capitec's accounts, adding that Viceroy was maintaining its short position on the lender. The Treasury on Thursday said it has been in constant contact with the central bank since the report was released and is satisfied there's no reason for concern. A Treasury spokesman didn't immediately respond to an email and voicemail seeking comment on Friday.
Capitec's stock has recovered about half its 25 percent loss in the four days through Wednesday, with several analysts backing the bank and condemning Viceroy for its report. Capitec described the analysis as one-sided and inaccurate in press conferences, interviews and statements and responded fully to each of the allegations on its website.
'Shoddy' Analysis
Perring, a former British social worker said the work of some of the analysts who backed Capitec was "shoddy" because they only worked with information provided by the bank without doing their own research.
In response to questions about his firm's origins and business practices, Perring said that he and his two Australian colleagues registered Ganadabi Ltd., Viceroy's only shareholder, in the U.K. in August. He said Viceroy only has one outside investor, a "significant high-net-worth individual" based in the U.S. he didn't name.
Viceroy conducts all of its own research with the help of reliable contractors and shared parts of the Capitec report with accountants who double-checked some of the numbers, according to Perring.
While Perring said he sometimes exchanges information with other short-sellers, his firm didn't "front-run" its Capitec report in any way.
Viceroy's research included interviews with 22 former Capitec employees, publicly available court documents and other public information, Perring said. The outfit didn't approach Capitec prior to publishing its report because the bank should already have made all relevant information public, he said.
Before it's here, it's on the Bloomberg Terminal.
LEARN MORE