markets
Einhorn's Main Hedge Fund Posts Worst Monthly Loss Since '08
By and
Greenlight Capital fund declined 6.6 percent in January

Manager says long positions disappointed while shorts surged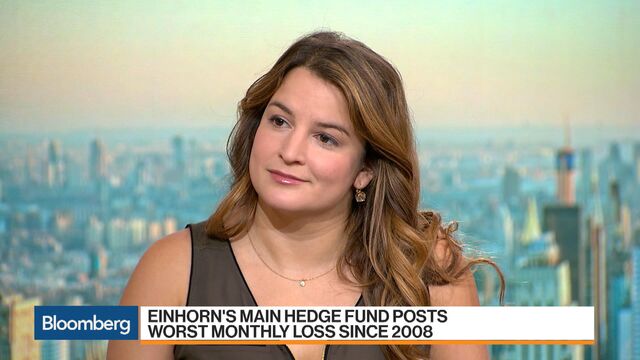 David Einhorn's Greenlight Capital hit a wall in January as its main hedge fund fell 6.6 percent, its worst monthly performance since October 2008.
In a note to clients, the firm attributed most of its poor performance to losses in the last week of the month. "Our long portfolio only achieved about half the S&P 500 return, while our short portfolio went up more than twice the index," Greenlight wrote, adding that many shorts rose 15 percent or more. "We believe the valuation spread between our longs and shorts is as wide as we can remember."
January's decline is the latest setback in a difficult few years for Greenlight. After losing more than 20 percent in 2015, the firm has struggled as it has stuck to its value-investing strategy. Wagers against a "bubble basket" of technology stocks have also failed to deliver, as investor enthusiasm remains strong for these companies.
Greenlight's disappointing 2017 performance didn't help matters. Its hedge funds lagged rivals and markets last year, rising 1.6 percent. The average hedge fund gained 6.5 percent and the S&P 500 Index returned almost 22 percent.
All of Greenlight's five top disclosed long holdings at the end of 2017 -- AerCap Holdings NV, Bayer AG, Brighthouse Financial Inc., General Motors Co. and gold -- made money during the first month of this year. But they were offset by declines in the short portfolio, according to the note. Netflix Inc., a member of Greenlight's "bubble basket," surged more than 40 percent in January. Shares of Amazon.com Inc. and Tesla Inc. also gained.
Last month's decline marks the fund's worst slide since Greenlight Capital LP fell 13.8 percent in October 2008.
Jonathan Gasthalter, an external spokesman for New York-based Greenlight, declined to comment on the results.
Einhorn has been defending his strategy. "While we certainly don't believe value investing is dead, it is clearly out of favor at the moment," the firm wrote in a Jan. 16 missive to clients. "While it feels like we have been running face first into the wind, we don't intend to capitulate and are sticking to our strategy."
(
Updates with client note in second paragraph.
)
Before it's here, it's on the Bloomberg Terminal.
LEARN MORE