Brexit No Problem for Leaders' Rosy Vision of U.K.-China Ties
Bloomberg News
China to open more financial services markets for U.K firms

Disputes on trade, human rights acknowledged but not focus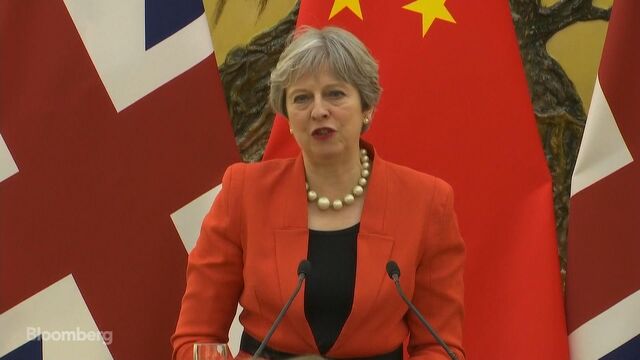 Follow @Brexit on Twitter, join our Facebook group and sign up to our Brexit Bulletin.
U.K. Prime Minister Theresa May and her Chinese counterpart Li Keqiang set thorny political issues aside and offered a bullish vision of the two countries' blossoming trade relationship after Brexit.
The two leaders put their countries on the path toward negotiating a future free-trade agreement, setting up a high-level panel to review and expand commercial ties. A British official said China promised to open up its market for U.K. financial services, a move likely to start with new deals announced in the coming days, potentially focusing on the insurance sector.
"The U.K. and China are global partners for the long-term," May said at a joint press conference in Beijing on Wednesday, outlining plans for a joint trade and investment review of bilateral ties. "China is a country that we want to do a trade deal with." Li said May's visit will further improve the "golden era" in U.K.-China relations and "bring new fruits."
May's business mission to China is meant to demonstrate her government's intent to forge a global trade policy after leaving the European Union next year. While the U.K. can't sign any deals outside the EU before leaving the bloc -- and wouldn't be able to implement them before at least 2021 -- she's hoping to strike now. U.K. companies will also sign deals worth 9 billion pounds ($12.7 billion) during her visit, she said, without giving details.
May's delegation -- which includes 50 business leaders, Trade Secretary Liam Fox, a clutch of officials and her husband -- are optimistic about progress toward formal trade talks. The group includes Pascal Soriot, chief executive officer of AstraZeneca; Mark E. Tucker, chairman, HSBC Holdings Plc; Ralf Speth, CEO, Jaguar Land Rover; Bill Winters, group chief executive, Standard Chartered Bank; and Nikhil Rathi, CEO, London Stock Exchange Plc.
China is also keen to build greater ties with a key U.S. ally and long-time pillar of Europe. May's predecessor, David Cameron, hosted Chinese President Xi Jinping on a state visit in October 2015.
A commentary published Wednesday by the state-run Xinhua News Agency said the "'liberating effect' of Brexit" could help ties between the two sides reach a "new high." China and the U.K. plan to step up cooperation in energy, nuclear technology, high-speed railways, aerospace and artificial intelligence, it said.
The two sides are discussing the feasibility of a bond-trading link that would mark a fresh step in opening up the world's largest emerging debt market, Bloomberg reported last month, citing people familiar with the matter.
May had said she would raise the sensitive topics of China's human rights record and Hong Kong democracy in talks. She has also shown reluctance to formally endorse Xi's global Belt and Road trade-and-infrastructure initiative, potentially putting at risk her pursuit of more robust ties.
Li confirmed that the two had discussed human rights, while May said she also raised the issue of over-capacity in the steel market, an issue that has led to job losses in the U.K. and Europe since exports from China surged.
Asked about China's Belt and Road Initiative, May struck a diplomatic tone, saying the plan had the "potential to further prosperity and sustainable development across Asia and the wider world."
"We will work together to encourage free and fair trade, ensure a transparent, rules-based multilateral trading system, and build an open global economy that works for all," she said.

May declined formally to endorse the Belt and Road Initiative by signing a memorandum of understanding, as Britain still needs assurances over transparency in supply chains and tendering for contracts so there is a fair split between Chinese companies and others winning business.
Li said China wanted to import more British food, especially beef and dairy products. May's team welcomed the offer, which they estimate could boost the U.K. economy by 500 million pounds over five years.
Standard Chartered said in December that it plans to facilitate at least $20 billion of financing for the Belt and Road Initiative by 2020.
— With assistance by Tim Ross, Peter Martin, and Stuart Biggs
Before it's here, it's on the Bloomberg Terminal.
LEARN MORE