Trump's Auto Comeback Claim Ignores Previous $46 Billion Investment
By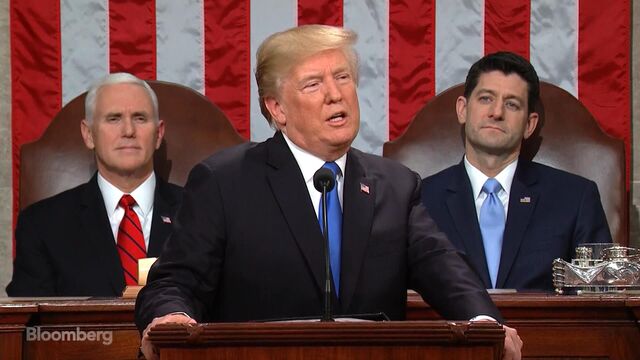 President Donald Trump is overlooking a significant sum when he says automakers are building and expanding U.S. auto plants for the first time in decades.
Carmakers announced about $77 billion in U.S. auto facility investment during the eight years Barack Obama was president, according to the Center for Automotive Research. That runs counter to Trump's claim Tuesday that Fiat Chrysler Automobiles NV, Toyota Motor Corp. and Mazda Motor Corp. are among the first to spend on U.S. vehicle manufacturing in years.
"Many car companies are now building and expanding plants in the United States, something we haven't seen for decades," Trump said during his State of the Union address Tuesday. "This is all news Americans are totally unaccustomed to hearing. For many years, companies and jobs were only leaving us. But now they are roaring back."
Trump praised Fiat Chrysler for moving some pickup production to Michigan from Mexico and credited Toyota and Mazda for building a new factory in Alabama. While Obama was president, Toyota, Volkswagen AG and Kia Motors Corp. opened assembly plants in Mississippi, Tennessee and Georgia. Volvo Car Group also broke ground on its first North American factory in South Carolina.
Before it's here, it's on the Bloomberg Terminal.
LEARN MORE