business
Ryanair Tickets to Warn 'Brexit Means Your Plane Might Not Fly'
By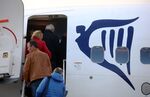 Follow @Brexit on Twitter, join our Facebook group and sign up to our Brexit Bulletin.
Ryanair Holdings Plc said it will go ahead with plans to stamp tickets with a warning that flights from the U.K. may not be able to operate in the immediate aftermath of the country exiting the European Union.
The Irish discount carrier has been outspoken in suggesting that Britons may have to resort to ferry journeys to get abroad if work on new air-service agreements isn't accelerated.
Ryanair will need to add the caveat to its tickets from September, when summer 2019 flights go on sale, Chief Marketing Officer Kenny Jacobs said Wednesday in London. "If we don't have any new news between now and then, we'll need to work out the wording," he said. "We hope we don't have to, that we do see some kind of clarity."
Like other airlines, Ryanair will have to refund fares if flights are suspended after Brexit is implemented next spring. Carriers including British Airways and EasyJet Plc may also add warnings, though they say it's almost unimaginable that the U.K. will be cut off, especially with Mediterranean tourism so reliant on British travelers.
Before it's here, it's on the Bloomberg Terminal.
LEARN MORE