Macron Popularity Falls as Pensioners Are Hit by Taxes
By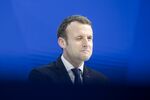 President Emmanuel Macron's popularity dropped in January as the government implemented tax changes that reduced disposable incomes of many pensioners, a BVA opinion poll showed.
The portion of voters who have a good opinion of Macron fell five points to 47 percent, according to BVA published Wednesday. The poll was of 1,101 voters Jan. 29 and 30. It has a margin of error of about 3 percentage points.
French voters views of Macron have fluctuated since his election in May, with multiple polls showing a recovery at the end of the year. Now tax increases for pensioners intended to fund a cut in levies for the working population are denting that rebound.
"The drop in popularity comes in the context of uncertain purchasing power, notably for retirees," pollster Erwan Lestrohan wrote in the report. Approval for Macron among people over 65 has dropped 7 points since December, he said.
Before it's here, it's on the Bloomberg Terminal.
LEARN MORE