markets
Inflation Debate Grips Fed as Yellen Exits: Decision-Day Guide
By
Stronger economy could lead to hawkish tilt in FOMC statement

January meeting sets stage for Powell to hike rates in March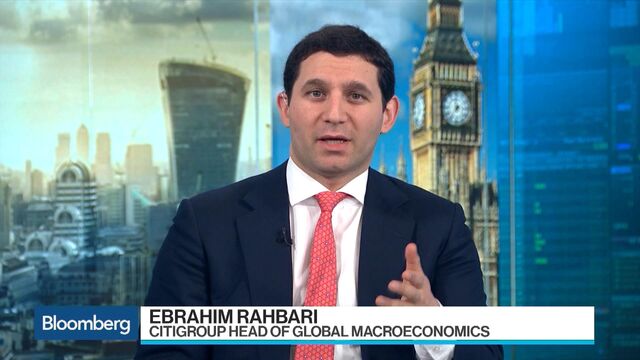 As Janet Yellen prepares to hand over the leadership of the Federal Reserve to Jerome Powell, the central bank is gripped by the same issue that's marked her four-year term as chair: puzzlingly low inflation.
The rate-setting Federal Open Market Committee is likely to maintain the range of its benchmark lending rate at 1.25 percent to 1.5 percent at the conclusion of a two-day meeting in Washington on Wednesday. It releases a statement at 2 p.m. and no press conference is scheduled to follow.
A bigger uncertainty is how the committee will describe inflation. Recent reports show some firming of prices, which could lead to the FOMC upgrading its assessment, which would be seen as giving it a hawkish tilt. Policy doves have argued there's not enough progress after six years of mostly undershooting the Fed's 2 percent target.
"We will scour the statement for evidence of whether the hawks or doves are in control," said Chris Rupkey, chief financial economist at MUFG Union Bank in New York. "The doves are not comfortable with low inflation, where the hawks are focused on low unemployment which argues for more inflation down the road and a more aggressive stance on rates."

One option would be for the FOMC to say "inflation readings have picked up somewhat" over the past year, said Roberto Perli, partner at Cornerstone Macro LLC in Washington and a former Fed economist. That would reflect the recent readings without altering the outlook and leave them on course to raise rates at their next meeting in March, with Powell at the helm.
Yellen's term as chair ends on Feb. 3 and Powell is expected to stay on the path of gradual rate hikes mapped out by her Fed. Officials have penciled in three moves this year and investors see the probability of a hike in the next meeting around 85 percent, according to pricing in interest rate futures contracts.
More Confident
"There will be some change in the inflation language to sound a bit more confident that 12-month inflation will be moving up to 2 percent this year," said Jonathan Wright, an economics professor at Johns Hopkins University in Baltimore and a former Fed economist.
Inflation measured by Fed's preferred measure rose 1.7 percent in December. Increasing oil prices and a falling U.S. dollar this year could help to move prices to goal as well.
Still, the safe course for the FOMC would be to repeat its language on inflation from December, said Michael Feroli, JPMorgan Chase & Co. chief U.S. economist. They may not want to change the tone "on the latest uptick in case it's a head fake and they have to reverse course" later.
The FOMC could also upgrade its assessment of risks to the outlook for the economy, describing them as "balanced" as opposed to "roughly balanced," said Neil Dutta, U.S. economist at Renaissance Macro. That would further raise the likelihood of a March hike.

What Our Economists Say
The prevailing themes of the December statement -- that the labor market continues to strengthen, economic growth is solid and business investment is picking up -- are all likely to remain intact. Potential avenues for modification could include more clarity regarding the expected impact from tax reforms, slightly upgraded language describing the pace of consumer spending and, as a result of continued above-trend growth, incrementally improved confidence that inflation is due to firm.
-- Carl Riccadonna and Yelena Shulyatyeva, Bloomberg Economics
Growth is likely to be described as "solid," as it was in December, following the release of a 2.6 percent annualized expansion in the fourth quarter.
The committee could be slightly more hawkish, or inclined to raise rates, with changes in the annual voting rotation. The presidents of the Cleveland, Richmond, Atlanta and San Francisco regional Fed banks become FOMC voters, replacing the leaders of the Chicago, Dallas, Minneapolis and Philadelphia Feds. Chicago's Charles Evans and Minneapolis's Neel Kashkari dissented against rate increases last year.
New Fed governors are likely more hawkish as well. Randal Quarles, vice chairman for regulation, joined the committee in October. Nominee Marvin Goodfriend, who as an economics professor has worried about inflation in previous years, hasn't been confirmed yet by the Senate.
"I will be watching for are any signs of tone from the new voters rotating on, which would include Governor Quarles," said Carl Tannenbaum, Northern Trust chief economist in Chicago.
In January, the FOMC each year releases a statement of longer-run goals of full employment and an inflation target of 2 percent. Big changes are not expected.
"This being Yellen's last meeting, there is no reason to rock the boat," said Perli. "Policy is set on a steady direction on which most members agree."
Before it's here, it's on the Bloomberg Terminal.
LEARN MORE